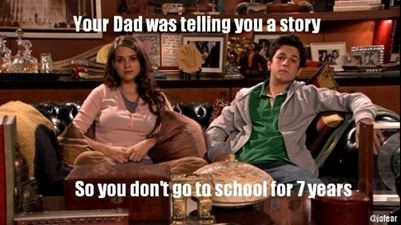 If you have to write a movie review on How I Met Your Mother (HIMYM), the worst thing you can do is to start watching it. Really. You won't be able to stop until you complete the last season only to know who on earth was the kids' mother. You won't have time even to eat, not to mention some reviews or other homework.
Moreover, a good movie review requires smart college-level words. And here's all you need to write a review (no spoilers included if you decide to watch the series afterwards).

🎥 How to Write a Movie Review
First, let's make it clear what to include in a movie review.
A movie review has the following five paragraphs:
Opening – catch your readers' attention with a joke, interesting story or a striking fact, somehow related to the series or its cast.
E.g. a) HIMYM is a rare case when books follow a show – five books related to the show were published (Bro Code and The Playbook among them). b) Ted dated at least 29 girls who weren't the mother. c) All episodes with kids were filmed during the first season to keep them the same age because they grow up while listening to Ted's story.
Official details – the title, the director, the studio, the main actors and the year when the movie was made.
Character and plot summary – the main point here is not to go too far. Movie reviews are much more than simply summaries. Keep it brief.
Technical details – speak about something that interested you most about the movie. It can be an inconsistency, a philosophic message or a role model. Discuss everyone's job – the actors, the scriptwriter, the costumers, etc.
Evaluation – draw a conclusion and say if you'd recommend the movie (series) and what audience would be most pleased to see it.
🤠 HIMYM: Characters
The narrator of this story is Ted, a romantic guy who's desperately looking for his love.
Here's how he is connected with other characters:
Ted
Marshall
Best friend. Ted's a bit jealous that he married his first real girlfriend, Lily.
Lily
Another good friend, who gives Ted a lot of advice, especially concerning women.
Barney
A good friend who insists that he is Ted's best friend though Ted politely denies it. A funny guy with his ridiculous womanizing ways.
Robin
Ted is in love with her, but they can't date because Robin doesn't want marriage or kids.
Ted
Classic nice guy seeking for the love of his lifetime.
📑 HIMYM: A Very Brief Summary
The main story lines:
Ted telling his kids about how he was dating tens of girls before he met their mother. Every time when he tells about another girlfriend, the kids ask: "Was she our mother?" and until the last episode, the answer is 'no'.
Ted is looking for his special someone, diving into 'serious' relationships with every girl he meets.
Marshall and Lily date, then they get married and give everyone dating advice.
Barney is always dressed up and trying to hook up with someone. His numerous relations don't last long.
A bit simplistic, right? That's enough for writing a film review.
🎞️ HIMYM: Special Devices
Sure, to make your movie review look like a college level project, you'll need to discuss the devices used in the series. Here's the clue:
Flashbacks – Ted, the narrator, tells his kids and the audience what he remembers, travelling in time.
A framing story – though the framing story – kids listening to their Dad's youth stories – is simple, it has effects on the audience. The audience keeps questioning if Ted's next girlfriend is going to be his wife.
Symbols – particular objects which are associated with something bigger. For instance, a yellow umbrella, which Ted occasionally finds after a St. Paddy's party symbolizes Ted's future. And Ted's red cowboy boots symbolized trying to make something work though it shouldn't (like Ted's and Robin's relationships, for example).
And the last practical hint: don't start watching the series until you complete the last page of your movie review. Just don't.