Overview
A nursing case study is a deep analysis of the health situation of a patient. This article answers all the questions about the proper way to prepare this kind of writing. It also suggests some writing tipis and features free nursing case study examples.
A nursing case study is an in-depth analysis of the health situation of an individual patient.


The analysis is based on:
symptoms,
medical history,
mood,
other relevant criteria.
In most cases, you will be asked to diagnose to suggest the first aid measures. Alternatively, nurses can be asked to describe a patient in their practice and analyze the correctness of their actions. The purpose is to recreate a realistic hospital setting in the classroom and make students reflect on the treatment process from diagnosis to treatment.
🩺️ Nursing Case Study: What Is It About?
We'll deliver a custom paper tailored to your requirements.
We'll even cut 15% OFF
your first order!
Use discount
As a nursing student, you should understand that no two patients are the same. Each has a unique clinical record and condition. And although most nursing case study tasks will ask you to suggest a diagnosis or treatment, your focus should rest on the patient.
Busy nurses can sometimes see their patients in the framework of an illness to be treated or a procedure to be fulfilled. But you should do your best to remember that each patient is a living person with a complex set of needs, emotions, and preferences. A ready-made textbook answer is rarely the best solution for them. Moreover, it rarely helps to analyze a condition in isolation from the patient.
In a nursing case study, your task is to analyze a disorder or illness as a part of a specific medical situation. If you don't do that, your case study becomes an essay (theoretical and generalized). It is the difference between the two assignment types.
Once again:
A case study in nursing emphasizes the particular patient's condition. Meanwhile, a nursing essay will explore the disease, prevention methods, treatment, or possible consequences of the disease.
Even if the case is hypothetical, it should focus on the suggested reality. On the other hand, essays are usually literature-based. You are expected to do some reading for a case study too, but you should research and present the information within the context of the patient. In simple terms, a case study uses information in the actual application, and an essay uses it for the sake of generalized suggestions.
💉 How to Write a Nursing Case Study: 3 Key Rules
Do the fieldwork.
Before setting your hands to writing, you should collect all of the available materials: clinical notes, results of medical tests, x-rays, sickness records, etc. Use this information to draw a clear picture of the story. It is always helpful to ask yourself, "What is interesting or unusual about this patient's condition?" In the course of writing, recall your answer from time to time not to get lost in words. It will help you to convey a definite and appropriate message.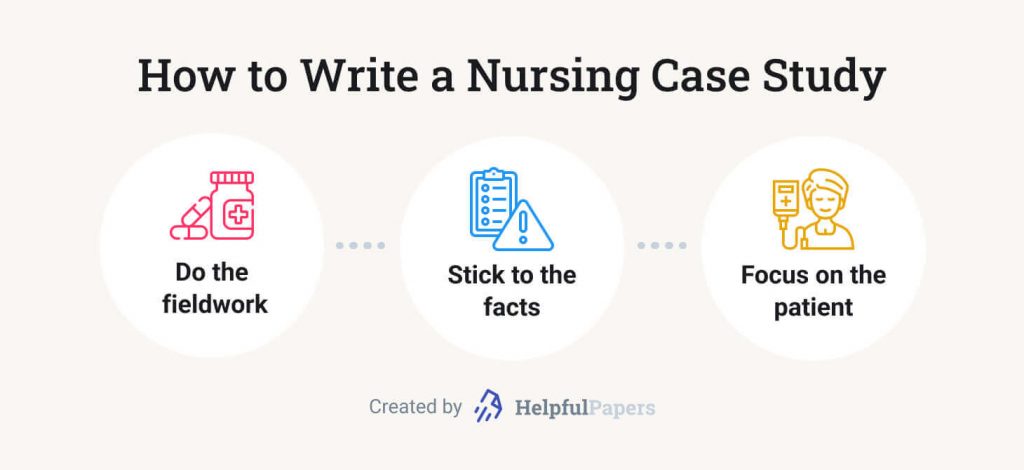 Stick to the facts.
A nursing case study should be an accurate description of the actual situation. Restrain from speculating about the inherent mechanisms of the illness or the general treatment methodology. In fact, students are rarely prepared enough to discuss pathology and physiology. Leave this to reputable experts. The best result you can provide in a case study is an honest account of clinical events.
Concentrate on the patients and their progress.
Remember that a nursing case study is a story of a patient's progress and not a narrative about their nurse. No matter how efficiently the medical specialist acted, it would be incorrect to add any praiseful remarks. The optimal way is to tell the story in its logical and time order and outline the result of treatment. In this case, the outcome will speak for itself.
📑 Nursing Case Study Format
Our Experts can deliver
a custom essay
for a mere 13.00 11.05/page
Learn more
Introduction
It is where you should tell the reader why this case is interesting. Place your study in a social or historical context. If, during your preliminary research, you found some similar cases, describe them briefly. If you had a hard time diagnosing the patient or your proposed treatment is complicated, mention it here. Don't forget to cite the references to each of them!
The introduction should not exceed several paragraphs. The purpose is to explain why the reader will benefit from reading about the case.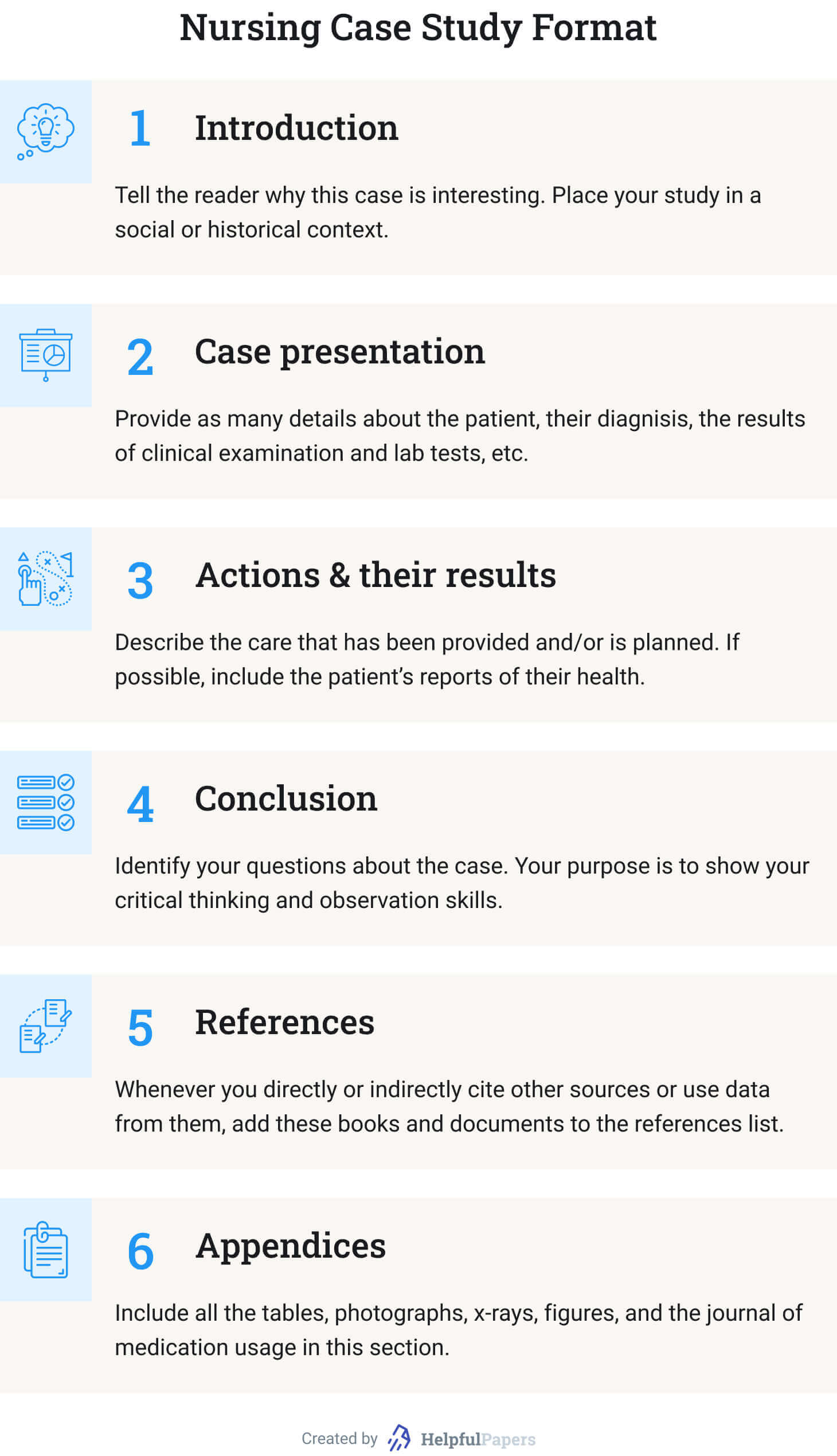 Case Presentation
Why did the patient seek medical help? (Describe the symptoms.)
What is known about the patient? (Mention only the information that influenced your diagnosis. Otherwise, explain why some information is irrelevant to the diagnosis.)
Stick to the narrative form. (Make it a story!)
What are the variants for diagnosis? (Make a shortlist of possible disorders that fall under the patient's symptoms. But make it specific: not just "pneumonia" but "bilateral pneumonia," for example. Besides, this point is optional.)
What were the results of your clinical examination? (If you saw the patient in person.)
Explain the results of lab tests. (The words "positive" or "negative" are not always clear.)
Actions and Their Results
This section describes the care that has been provided and/or is planned. You can answer the following questions in narrative form. If some information is missing, skip the point:
What preliminary actions have been taken? (Be specific: not just "wound care," but "wound cleaning and dressing.")
How long has the patient been under care?
Has the previous treatment given any visible result?
Why was it suspended or finished?
Why did the patient withdraw from treatment (if applicable)?
How could you improve the patient's condition if the result was negative?
If the disease is incurable (like in the case of diabetes), which activities would stabilize the patient's condition?
If possible, include the patient's reports of their own physical and mental health.
What are the variants for diagnosis? (Make a shortlist of possible disorders that fall under the patient's symptoms. But make it specific: not just "pneumonia" but "bilateral pneumonia," for example. Besides, this point is optional.)
What were the results of your clinical examination? (If you saw the patient in person.)
Explain the results of lab tests. (The words "positive" or "negative" are not always clear.)
Conclusion
In this section, you should identify your questions about the case. It is impossible to answer all of them in one case study. Likewise, it is unreal to suggest all the relevant hypotheses explaining the patient's condition. Your purpose is to show your critical thinking and observation skills. Finalize your conclusion by summarizing the lessons you learned from the nursing case study.
References
Whenever you directly or indirectly cite other sources or use data from them, add these books and documents to the references list. Follow the citation style assigned by your professor. Besides, 15 items are already too much. Try to make a list of up to 10. Using textbooks as references can be viewed as bad manners.
Appendices
Include all the tables, photographs, x-rays, figures, and the journal of medication usage in this section. Unless required otherwise in the assignment, start each item from a new page, naming them "Appendix A," "Appendix B…".
📝 Nursing Case Study Examples
On-Time Delivery!

Receive your plagiarism-free paper done
in only 3 hours
Learn more
Below you will find case study samples for various topics. Using them as a reference will improve your writing. If you need more ideas, you are welcome to use our free title-generating tool.
⏱️ Bonus: Tips on Writing a Case Study in Record Time
Need to prepare a case study on nursing or in another field? Below you'll find a collection fo tips that will help you do it as quickly as possible!
3 Shortcuts for a Quick Start
If you're about to start writing a case study, you should check yourself if you're not doing any of the following:
spending too much time on selecting a topic;
reading too much before selecting a topic;
making conclusions too early – creating bias.
Instead of killing time doing the three useless things discussed above, consider these:
Choose approach. Note that there are 2 major approaches to case studies: the analytical approach (investigating possible reasons without making any conclusions) and problem-oriented approach (focusing on a particular problem and investigating it).
Skim some sources (DON'T READ THEM). Select several sources. Simply skim abstracts and conclusions.
Start making notes early. Simply reading is ineffective unless you're lucky to have a phenomenal memory. Always make notes of any useful arguments.
4 Shortcuts Not to Get Stuck in the Middle
Even if you kick started your case study, it's too early to celebrate it. Consider the following traps in the middle of the project:
Watch the structure. The classic logical structure is your formula of success. It will help you move from one point to another without the unnecessary procrastination:
Respect the logic. Make your case study flow – make logical transitions between the different parts and make it consistent. Avoid changing your position throughout the paper.
Be detail-oriented. Any trifle deserves attention when you write a case study.
Avoid bias. Be sure that all your opinions are based on the specific arguments form the case study. Avoid pouring your biased views into the project.
3 Shortcuts for a Happy Ending
Offer a realistic solution. College case study is a rehearsal of real-life situations. Take the responsibility for your suggestions.
Keep your conclusion short. Avoid repeating the details and don't include any new information.
Consider creating a Power Point. If your task is not only writing a case study, but also presenting it – why not create PowerPoint slides to help you?
As the last step on your way to a perfect nursing case study, prepare the title page. Its format usually depends on the professor's requirements. But if you know the citation style, our Title Page Maker is a perfect tool to apply the right formatting and accelerate the process. And if you have any know-how on how to write a medical case study, you are very welcome to share it with other students in the comments below.
❓ Nursing Case Study: FAQ
What Is a Case Study in Nursing?
A nursing case study explores the condition of a patient. It is based on previous clinical records, lab reports, and other medical and personal information. A case study focuses on the patient and describes the treatment that was (or should be) applied and its (expected) outcome.
How to Write a Nursing Case Study?
Collect the bulk of data available about the patient.
Read literature about the diagnosed condition.
Focus on the individual patient and their symptoms.
Describe the situation and outline its development in time.
Analyze the actions of the medical personnel that have been done.
Plan further treatment of the patient.
Why Are Case Studies Good for Nursing Students?
Nursing case studies offer you a priceless opportunity to gain experience of different patient conditions and cure methods without visiting the clinic. You can think about whether the proposed treatment was appropriate or wrong and suggest a better solution. And the best thing, your teacher will indicate your mistakes (and no patient will be hurt in the process).
Why Are Case Studies Important in Nursing?
You learn to distinguish the relevant data and analyze it.
You learn to ask the right questions.
You learn to evaluate the severity of symptoms.
You learn to make better diagnoses.
You train your critical thinking in terms of treatment methods
Case studies are in-class simulators of authentic atmosphere in a clinical ward.
🔗 References