Writing a case study can be much easier and quicker than you think. This post is here to give your head a shake and save you from major time wastes. You would probably be surprised to know it. But some unnecessary steps can be easily skipped. At the same time, others may boost your productivity.
3 Shortcuts for a Quick Start
Get your 100% original paper
on any topic with 15% OFF
Learn more
If you're about to start writing a case study, you should check yourself if you're not doing any of the following:
spending too much time on selecting a topic;
reading too much before selecting a topic;
making conclusions too early – creating bias.
Instead of killing time doing the three useless things discussed above, consider these:
Choose approach. Note that there are 2 major approaches to case studies: the analytical approach (investigating possible reasons without making any conclusions) and problem-oriented approach (focusing on a particular problem and investigating it).
Skim some sources (DON'T READ THEM). Select several sources. Simply skim abstracts and conclusions.
Start making notes early. Simply reading is ineffective unless you're lucky to have a phenomenal memory. Always make notes of any useful arguments.
4 Shortcuts Not to Get Stuck in the Middle
Even if you kick started your case study, it's too early to celebrate it. Consider the following traps in the middle of the project:
Watch the structure. The classic logical structure is your formula of success. It will help you move from one point to another without the unnecessary procrastination: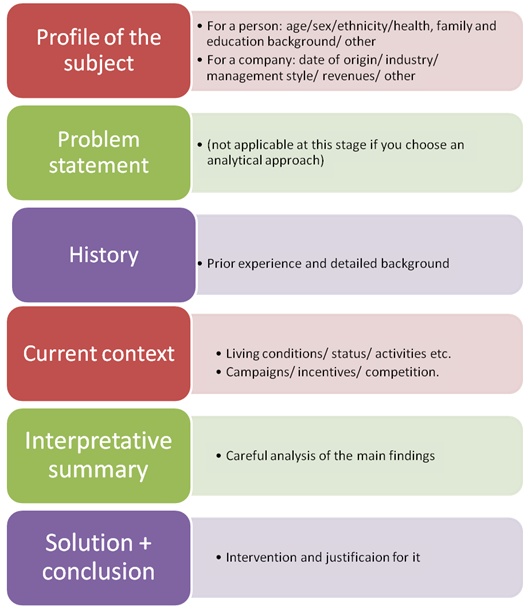 Respect the logic. Make your case study flow – make logical transitions between the different parts and make it consistent. Avoid changing your position throughout the paper.
Be detail-oriented. Any trifle deserves attention when you write a case study.
Avoid bias. Be sure that all your opinions are based on the specific arguments form the case study. Avoid pouring your biased views into the project.
3 Shortcuts for a Happy Ending
3 hours!

The minimum time our certified writers need
to deliver
a 100% original paper
Learn more
Offer a realistic solution. College case study is a rehearsal of real life situations. Take the responsibility for your suggestions.
Keep your conclusion short. Avoid repeating the details and don't include any new information.
Consider creating a Power Point. If your task is not only writing a case study, but also presenting it – why not create PowerPoint slides to help you?
What's your least favorite part in writing case studies?