Are you struggling to write psychology research papers? No worries! We know how challenging some psychology topics can be, especially complex issues like psychological disorders. To help you with those, we've created this PsychologyWriting review. Psychology Writing is one of the most extensive psychology essay databases online. You can find essay samples to get inspired and boost your research skills. Let us have a closer look at PsychologyWriting!
➡️ Introduction to PsychologyWriting.com
We'll deliver a custom paper tailored to your requirements.
We'll even cut 15% OFF
your first order!
Use discount
PsychologyWriting provides students with free essay samples on various psychological issues. The range of papers is truly never-ending and includes the topics of child psychology, cognitive psychology, human development theories, etc. You can search for the topic you need, and PsychologyWriting will list all the papers related to the subject.
Here are examples of our most popular samples:
What makes PsychologyWriting stand out is that real students donate all the papers. After the submission, the team of experts checks whether the granted texts fit all the academic requirements. If you want to give away your piece, you can do it by filling in the special form. Even though PsychologyWriting started as an essay database, you can now find case studies, articles, research papers, and other types of written assignments on psychology.
PsychologyWriting.com aims to provide students with materials for referencing, gaining inspiration, and new ideas. Check out PsychologyWriting to learn more about the top psychological topics, essay structure, and formatting!
🧭️ PsychologyWriting User Manual
If you wonder where to find free essays of top quality, you definitely should give PsychologyWriting.com a try! To help you navigate better, we added a small guide in our PsychologyWriting review on how to use this website.
Step #1: Search for the Topic
There are several valuable tools on PsychologyWriting.com to find essay examples on the required topics.
To start with, you can simply use the search bar. Write down the subject you're interested in and get the perfect essay matches!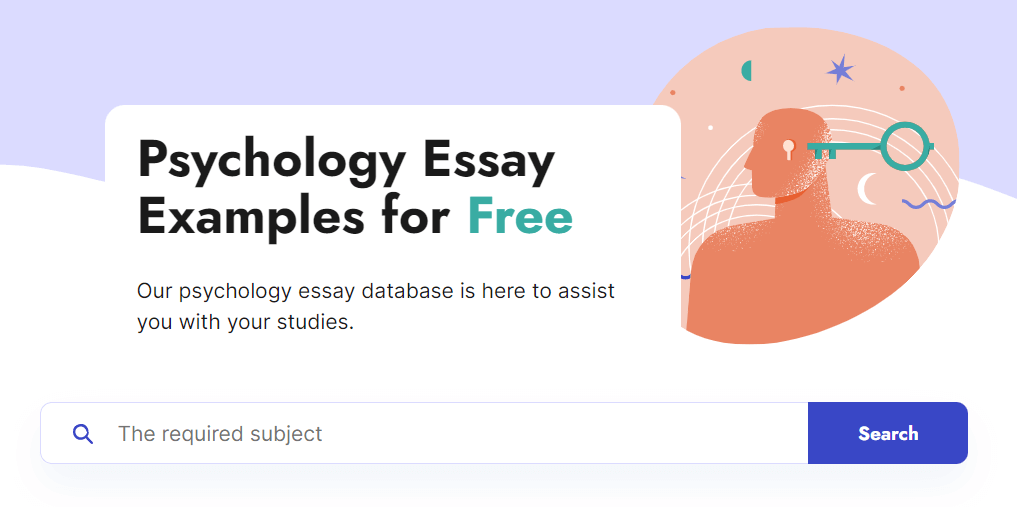 Another solution we recommend is the selection of subjects. The subjects include family psychology, organizational behavior, cognitive psychology, and many others.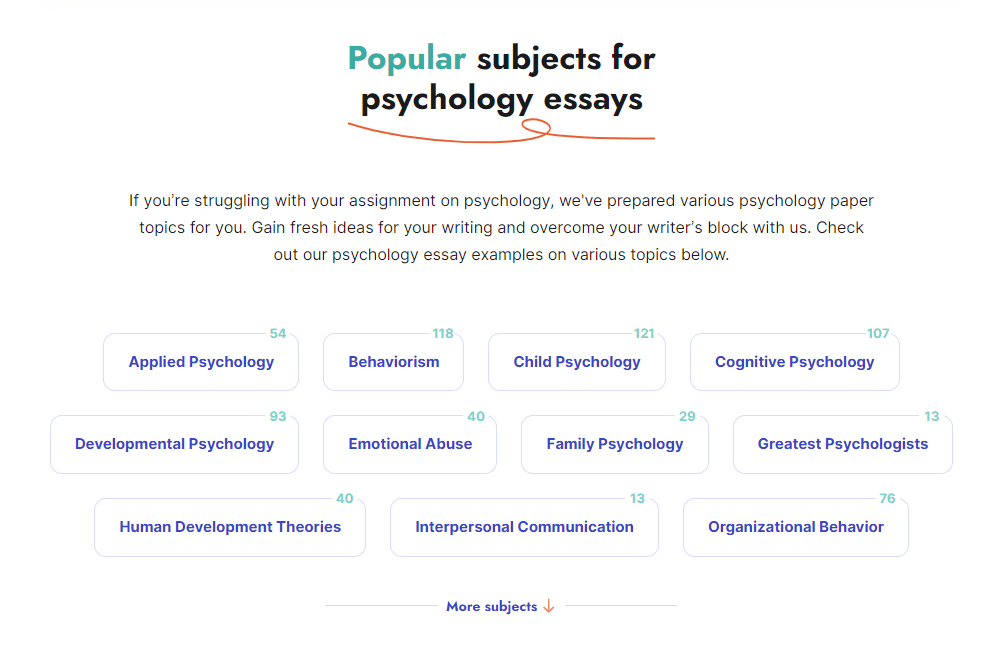 To get even more content, check out the collection of PsychologyWriting's topics. Examples are child abuse, stress, motivation, anxiety, and so much more.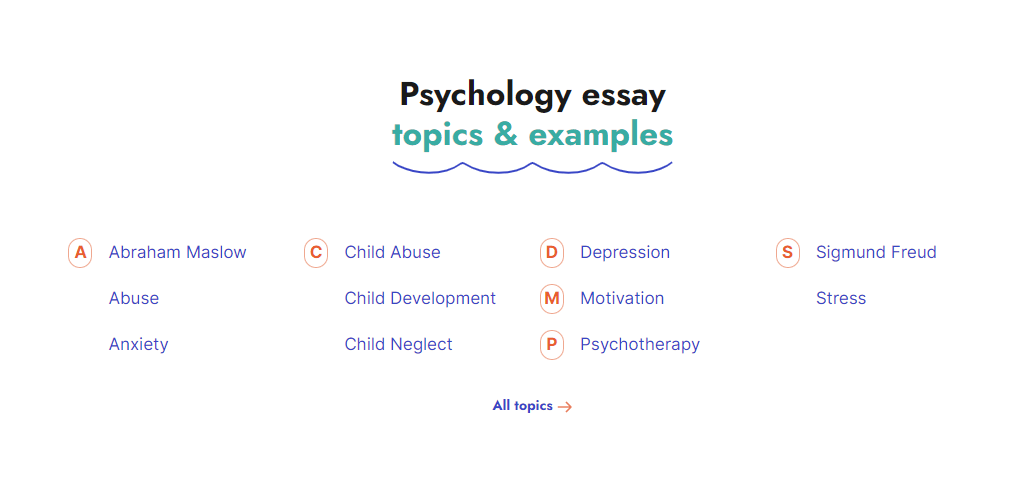 Lastly, look at the trendiest psychology essay topics on PsychologyWriting's front page. We are sure you'll find plenty of fresh ideas for your research there!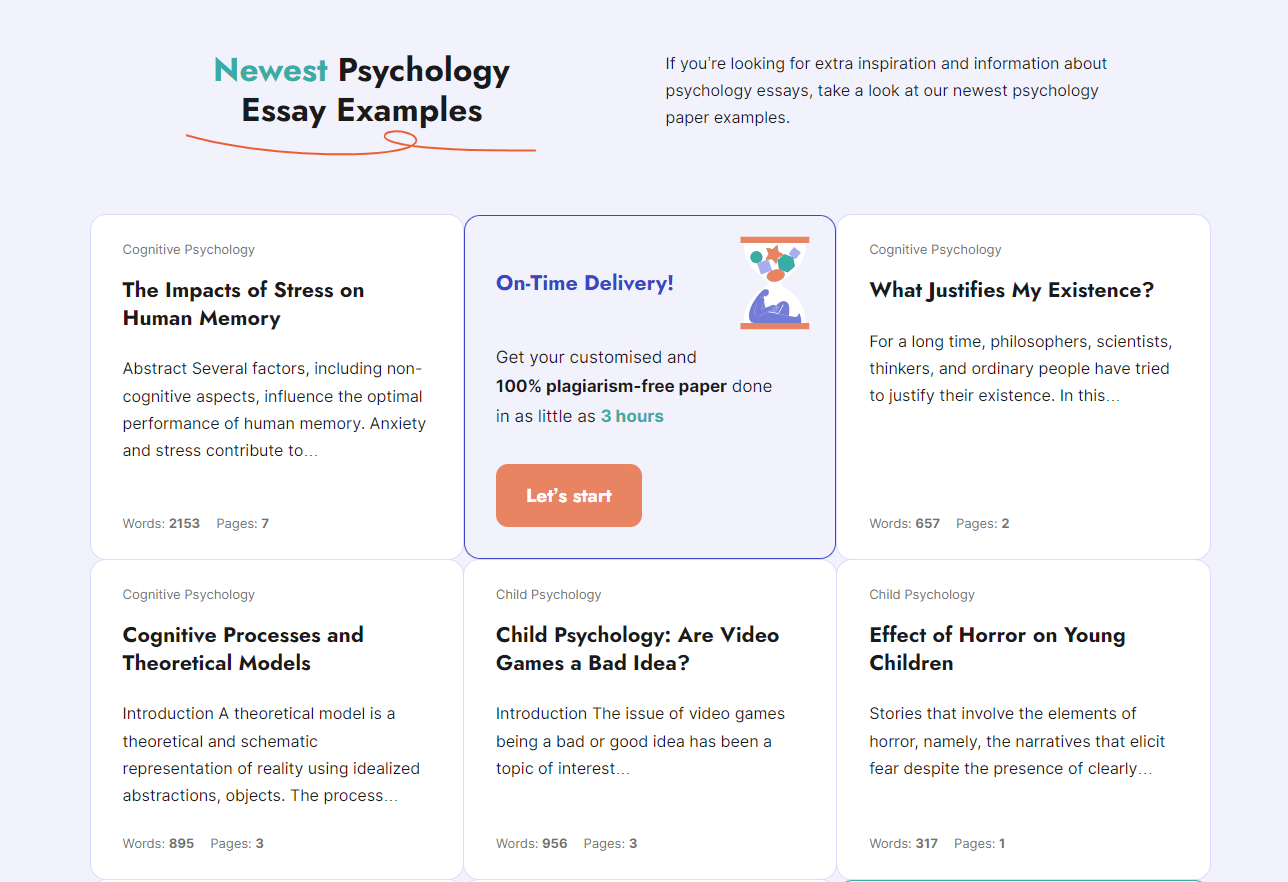 Step #2: Read the Sample
Only real students with high academic performance voluntarily submit their papers to PsychologyWriting. Their essays will inspire you, give a profound understanding of the topic, and offer lots of material for your literature review. We recommend checking the references provided in the samples so that you can choose something for your research. Moreover, PsychologyWriting's papers are well-crafted and demonstrate how to organize and format your essay to fit the academic requirements.
Step #3: Check Related Articles
On every sample page, you can find other related essays to look into. This is a great option provided by PsychologyWriting: you can see all the materials on a particular topic. All the related pieces contain the keywords and terms you can use in your writing to bring it to a professional level.
Step #4: Cite the Paper
You can use the essay samples on PsychologyWriting.com only for research purposes. Remember that you cannot hand one of their essays as your own since it will be considered plagiarism. However, you can use content from PsychologyWriting.com in your literature review if you cite it properly. The website designed a unique citation tool you can find below every sample. Many styles are available, including APA-6, APA-7, Harvard, Chicago (A-D), and others.
📨 PsychologyWriting Customer Service
Our Experts can deliver
a custom essay
for a mere 13.00 11.05/page
Learn more
PsychologyWriting's team is happy to receive feedback from their users to ensure they have the best experience using the essay database. If you have a question or an issue, you can always contact PsychologyWriting's customer service.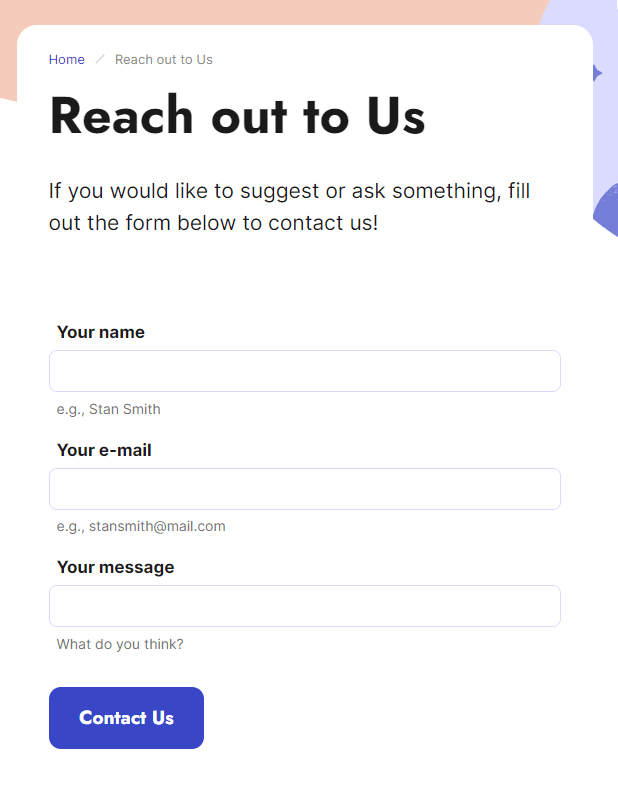 To reach out to PsychologyWriting.com, you need to fill in a particular form where you put your name, emails, and the message. You shouldn't worry about privacy since it's Psychology Writing's top priority. Your details will only be used to contact you back as soon as possible. The team always appreciates the cooperation with its users!
✨ Benefits of Psychology Writing
On-Time Delivery!

Receive your plagiarism-free paper done
in only 3 hours
Learn more
There are different ways in which PsychologyWriting's essay database can benefit your creativity and writing skills. Consider these advantages of using the database:
Free access to thousands of essays on psychological topics. There are no hidden payments.
24/7 support to all users. If you have a suggestion regarding the database or cannot find an essay that matches your topics, you can always write to the support team.
A better understanding of your topic with related essays collection. On every sample page, you can find a list of similar papers for your inspiration.
The opportunity to check out the others' writings to gain insight into the most complex issues and see what topics are the most popular ones.
The opportunity to donate your essay to PsychologyWriting. This way, you make a valuable contribution to knowledge exchange and help others improve their writing skills.
Safe information exchange and personal data protection. You can enjoy their vast essay database on psychology essay topics without worrying about your privacy protection.
📝 Conclusion
By writing this PsychologyWriting.com review, we wanted to inspire you to use all the possible tools that can benefit your essays. This website has one of the most extensive collections of academic papers for psychology students and everyone interested in this subject. Access to all the articles is free since real students voluntarily donate them.
With PsychologyWriting, you can improve your creativity, critical thinking, as well as research skills. Lastly, the website offers helpful citation tools and vast collections of papers on particular topics to make essay-writing fun and enjoyable.
❓ FAQ
Is PsychologyWriting legit?
Yes! It is absolutely legit and offers all the services completely for free. The essays in PsychologyWriting's database are donated voluntarily by students. Users get free access to all the papers with no hidden payments.
Is PsychologyWriting reliable?
A team of experts carefully checks every essay donated to PsychologyWriting. The expert team ensures that every sample has no grammatical, stylistic, or factual mistakes and is well-organized. You can trust these papers and use them as references for your own writings.
Is PsychologyWriting safe?
The website protects the personal data of its users and never uses it for marketing purposes. You don't need to fill in any form to access the essay database. If you have questions or suggestions related to PsychologyWriting's users' protection, you can always contact their customer service.
Is PsychologyWriting a scam?
PsychologyWriting sticks to academic ethics and aims to improve students' writing skills free of charge. All the papers are available entirely; they are not just templates. The website forbids users to take samples from the website and hand them in as their own. PsychologyWriting doesn't support any forms of cheating or plagiarism.