Political science is a social science that studies politics. Like in any other social science, many theories and paradigms contradict each other, and researchers have polar opinions. It is a highly cross-disciplinary subject. To be a successful political science student, you should understand history, sociology, psychology, law, and other fields and be able to interpret them well.
We want to recommend an online sample database for those struggling with political science papers in college or high school. At DemoEssays.com, you will find politics essay samples on civil rights, diplomacy, international relations, government, etc.
Let's read this Demo Essays review together!
🔓 Introduction to DemoEssays.com
We'll deliver a custom paper tailored to your requirements.
We'll even cut 15% OFF
your first order!
Use discount
DemoEssays.com is a service with free essay samples that help students write better papers. You will find more than 1,500 online essays for students on political topics here. The platform is free, and you don't even need to register.
You can search for the papers you need with the search box or thematic categorization. The database provides samples on international law, famous politicians, American laws, international relations, and many more. You can find anything from short essays to long cross-disciplinary papers.
Here are some examples from the Demo Essays collection:
Political science students submit the papers to the database. Before publishing, the expert team checks all essays for plagiarism, factual accuracy, and literacy. You can donate your best pieces too!
Besides thousands of free essay samples, the website also offers online writing tools. These free instruments will speed up your writing and help you with routine tasks. Use them to create thesis statements, shorten and paraphrase your texts, and generate topics.
🖌️ DemoEssays Features
If you don't know where to find free essays, this database is what you've been looking for! Here's our honest DemoEssays review.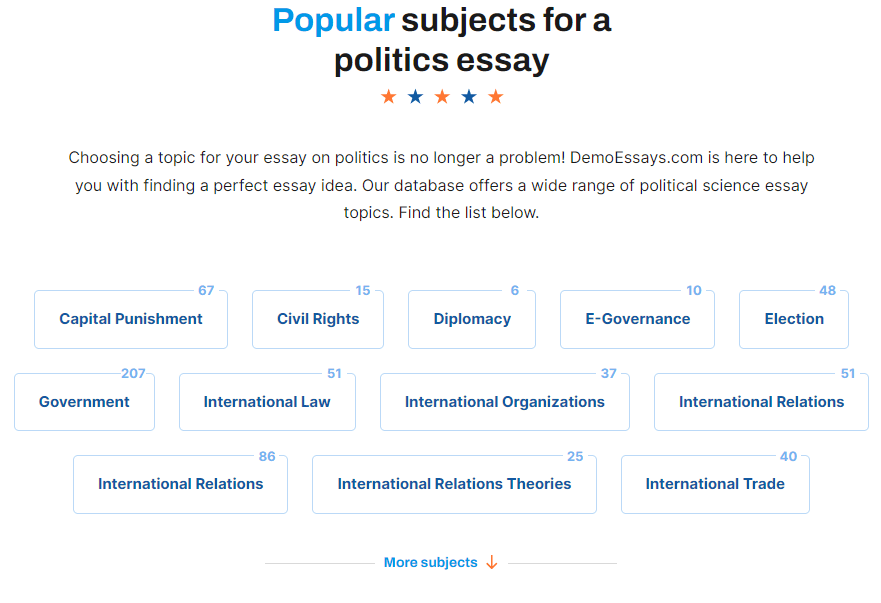 1. Awesome Search System
There are four ways of searching for the samples you need. Just choose the most convenient one:
Use the search bar on the main page. We recommend typing only keywords rather than complete topics.
Select a particular subject. You can pick one of the 22 available categories: government, political ideology, political theory, law enforcement, public policy, and more.
Select a specific topic. Click "Topics" in the upper right corner or scroll down the main page. You will see a list of themes in alphabetic order: capitalism, gun control, Barack Obama, etc.
Choose one of the fresh samples on the main page. The DemoEssays team constantly updates the list of new political essay examples. You can find it at the bottom of the main page.
2. The List of Related Articles
Successful college students and a team of professionals work on all the short and extended essay examples. You can practice writing a political essay using these samples.
Here's what you should pay attention to:
Essay structure.
Evidence and statistics.
Data analysis.
References.
Keywords and related terms.
Also, don't forget to check the list of related examples at the left of each sample page. This feature allows you to find essays on the same or linked topics. The algorithm uses specific keywords, terms, and categorizing to show the most relevant examples for college students.
3. Easy Citing Instrument
All of the essays have printable pdf versions and are available without restrictions. But don't copy and paste the information you found on Demo Essays to avoid plagiarism.
To follow academic rules, reference the samples instead of copying them. You can find a convenient citation tool at the end of each paper. Choose the formatting style you need and give credit to any piece: APA-6, APA-7, MLA-8, Harvard, Chicago (A-D), and Chicago (N-B) citations are available.
You only need to copy the reference to the clipboard and paste it into your paper.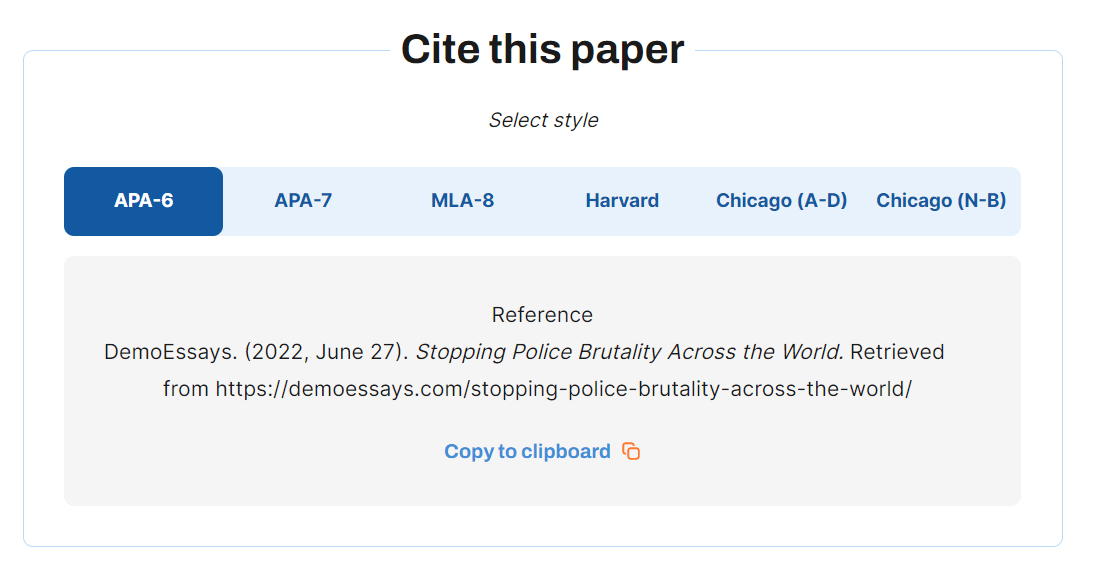 4. Free Writing Apps
The tools on DemoEssays.com are made for political science students. They will boost your productivity and save you time on routine tasks.
Take a look at these essay-writing helpers: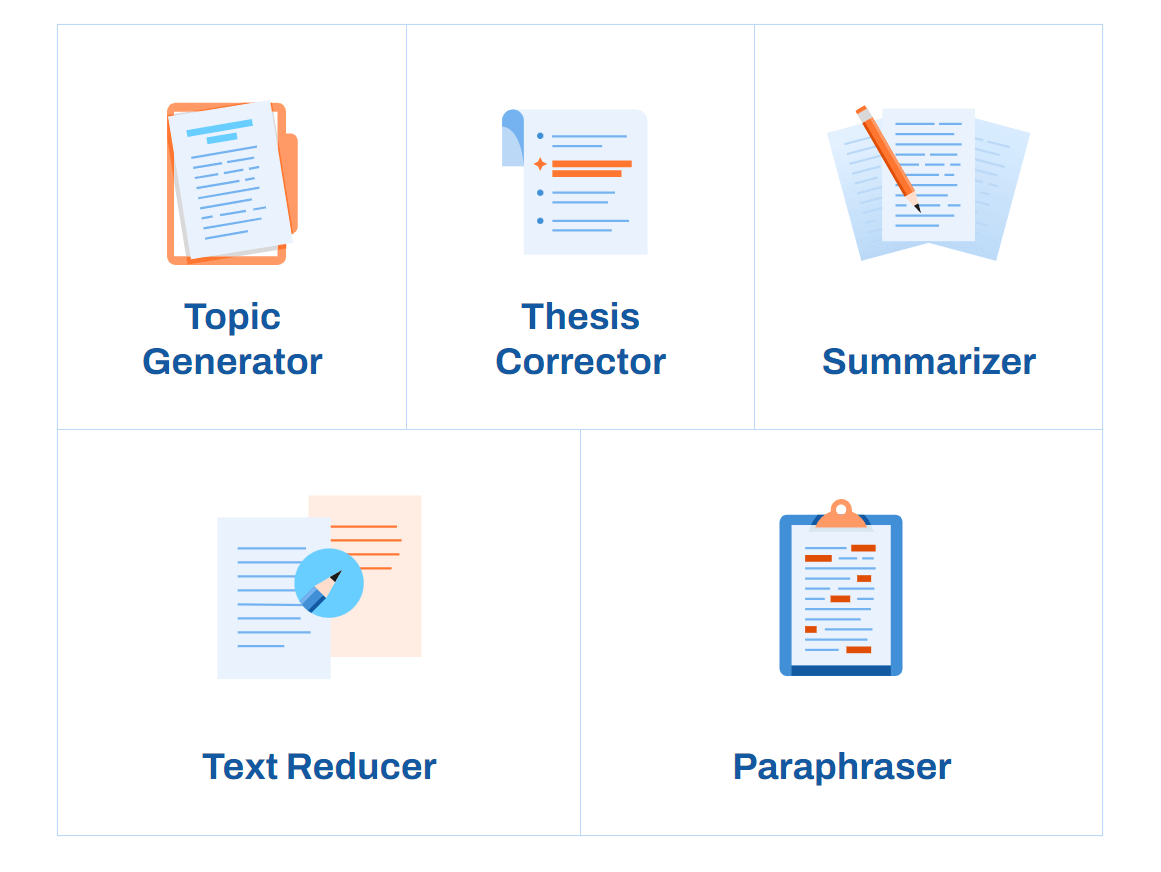 📞 DemoEssays Customer Service
Our Experts can deliver
a custom essay
for a mere 13.00 11.05/page
Learn more
The customer support service functions 24/7. You can report a problem, ask a question, or write a DemoEssays review using the form on the page. The support team will get in touch with you within two business days.
Don't worry about leaving your email and name in the form. The website ensures the privacy of all visitors and doesn't share your data elsewhere. You only need to provide your email to get a response to your request. And you can always contact the support team if you want to delete all your data given before.
🎁 Benefits of Demo Essay
On-Time Delivery!

Receive your plagiarism-free paper done
in only 3 hours
Learn more
Let's see what you can get with DemoEssays:
Unlimited access to the best free political essays.

There is already a big choice of samples, but the database is constantly updated with new papers.

A source of ideas and inspiration.

If you feel stuck with your assignment, a good sample can always give you some new perspectives.

An opportunity to see other students' papers.

You can outline your papers or writing templates using Demo Essays samples.

References for your papers.

Explore the works cited at the end of the samples to expand your sources of knowledge.

Free writing tools.

Create thesis statements, summaries, and new topics, paraphrase texts and reduce the word count in less than a minute.

An opportunity to share your paper with others.

Donate your best pieces to give a hand to other students.

24/7 customer support.

Don't hesitate to ask any questions. The team of professionals is at your service.

Privacy of your data and safe information exchange.

The priority of DemoEssays is to ensure the safety of the students using their services.
🔒 Conclusion
DemoEssays.com is the best service to find free essays about politics without registration or subscription. In addition to more than 1,500 samples, you can use free writing tools and convenient search features. The samples published on DemoEssays go through several checking stages before publishing. This is how the quality and accuracy of the papers are guaranteed.
Study smarter, not harder! Good luck!
❓ FAQ
Is DemoEssays a scam?
No, it is not a scam. As former students, we know how helpful essay samples can be. That is why we recommend this 100% free essay database to help you develop your writing skills. You can use this platform to find writing ideas and inspiration without paying a single penny.
Is DemoEssasys reliable?
Yes, the service is 100% reliable. The team of qualified experts makes sure to share only relevant content. All papers go through the proofreading and verification stages. It makes DemoEssays one of the best free essay websites.
Is DemoEssays safe?
The website ensures the data privacy of all visitors. The team regularly checks the website for malware and security holes to make your user experience safe. If you want to delete your details permanently, just submit a request to the support team.
Is DemoEssays legit?
Yes, for 100%! All of the samples are verified and plagiarism-free. The published paper examples are DemoEssays' intellectual property. In addition, every online tool offered is safe and doesn't cost you anything. If you have any concerns or problems, contact the support team.