If your task is to write a descriptive paper, it is a fantastic chance to apply your (any kind of) writing skills.

Being able to write well is a scarce skill. Not everyone can be a good writer and boast about their academic papers. We understand that – academic writing has many rules and limits for students.
Check out the following free descriptive essay example with comments and learn how to draw true masterpieces with your words.
⚡ BONUS: Descriptive essay rubric to see the text from a teacher's angle.
⭐ An Excellent Example of a Descriptive Essay
We'll deliver a custom paper tailored to your requirements.
We'll even cut 15% OFF
your first order!
Use discount
Let's start with the example of simple but good descriptive writing. Below you can see how to integrate different techniques in the text.
"The Lonely Life of a College Textbook"
| | |
| --- | --- |
| Start by expressing your emotions. | There is nothing like finding the textbook I need in the piles crowding my desk at the end of a term. |
| Include sensory details. | Its rough pages were snow-white before, but now they are covered with dust. |
| Add figures of speech. | The textbook looks like a wounded veteran, with its dog-eared pages and highlighted lines. |
| Use descriptive language. | The quiet rustle of the pages is comforting. It whispers: "You will learn everything you need for tomorrow's exam." |
| Don't hesitate to add some drama. | How could I exchange my textbook for its digital copy? |
To fix this knowledge, here's a helpful scheme to remember.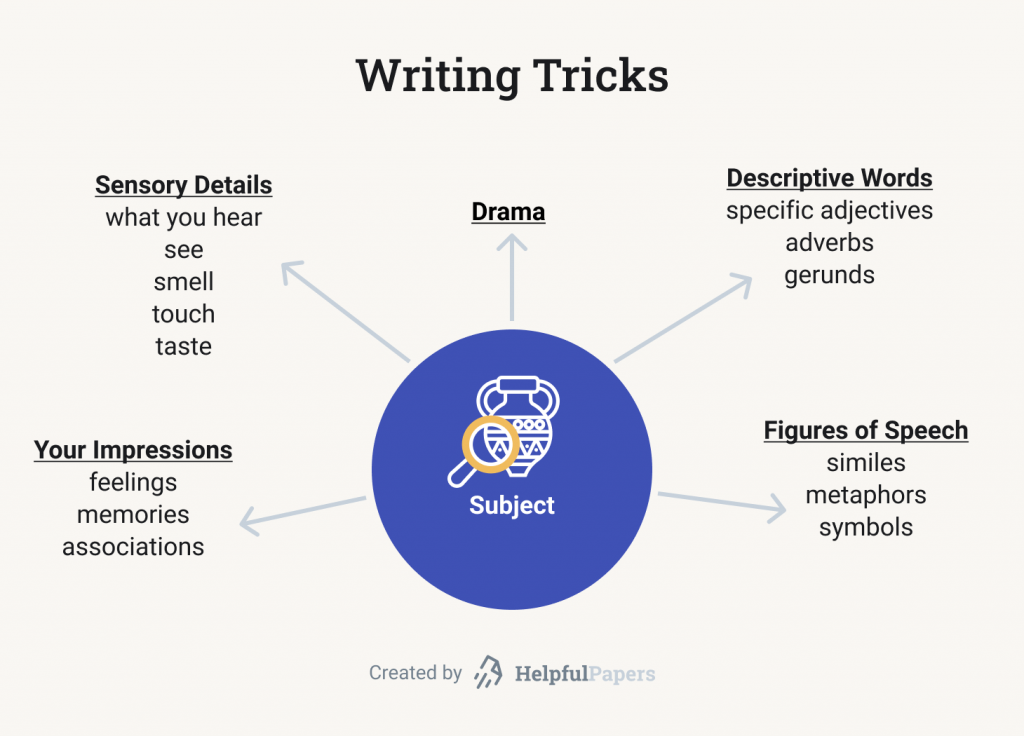 🎯 What Is the Purpose of a Descriptive Essay?
Before we get to the detailed steps of writing, here is a crucial thing to figure out.
What do we actually want to achieve with a descriptive paper?
Now, the answer is not that simple.
A descriptive essay gives a detailed description of a person, object, place, or event.
Words create a picture in readers' minds by engaging the five senses: smell, taste, touch, sight, and sound.
Readers should share and feel the author's emotions.
Simply put, you are not just a writer but rather a psychologist. Reaching people's emotions is not as easy. However, the appropriate and vivid word is the best weapon for this purpose.
📍 Descriptive Essay Outline
Our Experts can deliver
a custom essay
for a mere 13.00 11.05/page
Learn more
Of course, fiction writing and highly creative and free formats don't need a defined outline. However, if your task is to write a descriptive essay according to academic norms, here is what you need to know.
Introduction
This is a part that requires the most significant effort. An introduction is an opening paragraph that catches your reader, and the best way to start a descriptive essay is by using a narrative hook!
Body
Depending on the format of your writing, main paragraphs vary by size, content, and sequence. Nevertheless, here is the universal feature:
Start each paragraph from the topic sentence; it will give the reader a broad view of the subject → Provide details as you develop your thoughts.
Be sure to follow one simple rule of thumb: show, don't tell.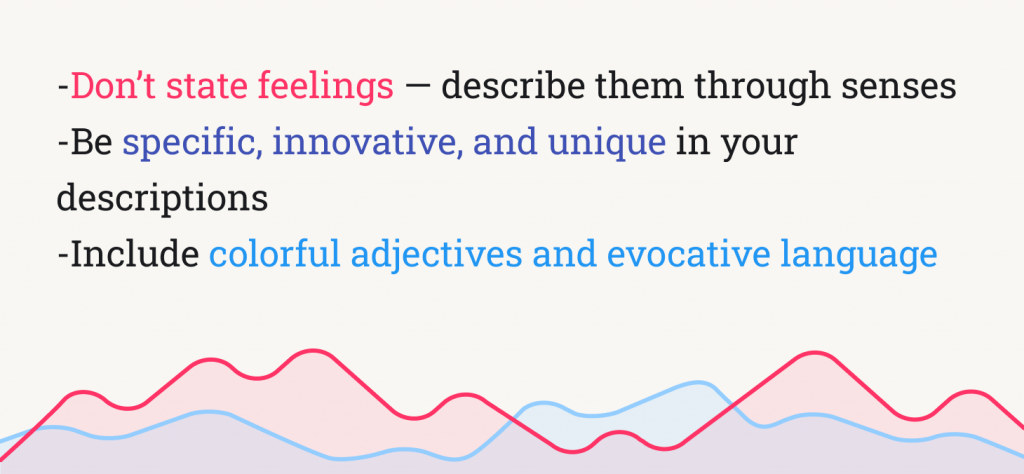 Conclusion
Write a conclusion that restates your main ideas. Summarize your key points, and don't introduce any new thoughts. Try to leave a reader with the feeling of having learned something.


💁🏽 Boost Your Descriptive Essay with These Tips
On-Time Delivery!

Receive your plagiarism-free paper done
in only 3 hours
Learn more
Descriptive essay writing can be rather challenging unless you have a lively imagination. You will have to work very hard to create something that your reader will believe and enjoy.
You may need a few practical hints on descriptive essay writing:
Choose a good topic and an angle for it.
Imagine what you're describing in the tiniest detail.
Show, don't tell.
Feel, smell, see, touch, and/or taste your object.
Make your readers feel what you feel.
Incorporate a variety of transition words to connect your ideas.
Use comparisons to make your descriptions more vivid.
Include a variety of clauses and compound sentences to express your thoughts.
Now you know more about how to draw with words and what you need for writing a descriptive essay that rocks.
Need more practical tips on writing an excellent descriptive essay? Keep reading!
🏴 Descriptive Essay Topics: Mistakes
Writing a descriptive essay seems relatively unconstrained and liberal, right?
Don't rush!
Here are some common mistakes in writing descriptive essays you should avoid:
Not having a key idea. You should focus on one main idea when writing a descriptive essay and make it clear to your readers. "Describing something" is a bad idea.
Using unnecessary adjectives in your descriptions. Try to describe the object or person using your emotions and feelings. Don't just give a long list of adjectives from Thesaurus.
Having too many negative adjectives in your descriptions. You should try to use mild language instead. Euphemisms over dysphemism!
Having introduced you to the main rules of writing a descriptive essay, we now want to show you an opposite vision of your text.
💯 Descriptive Essay Rubric
In academic writing, a rubric is a set of criteria used to evaluate your text.
Thus, every writing format has its aspects that are key to grading. Usually, teachers have a whole table with these criteria; each has a specific point scale, according to which your text is assessed.
Now.
Let's figure out what the teacher will most likely pay attention to in your descriptive essay.
Organization
State the key topic and outline the structure of a text. Support the main idea with some background, and don't forget about the right essay hook!
Sequence. The subject is disclosed comprehensively. All the features and details are in a logical order and work effectively.
The final part wraps up the discussion and makes sure that the reader understood the author's vision.
Creativity
Is it creative? Sparkling? Is it related to your topic?
Supporting details. Did you include the elements that help readers to visualize and feel your subject?
Make sure that your writing has your voice and experience. Ideas are entirely yours, as well as language.
Formality
Grammar & Spelling. Don't forget to proofread and polish your text. Mistakes and typos create a negative attitude in a reader.
Formatting. Ensure that you followed all the formal requirements your instructor provided: Number of words, font size, font style, etc.
You may go through these points of the descriptive essay rubric after writing. Keep in mind to revise the text from all angles: organization, creativity, and formality.
🧑 Descriptive Essay Topics about a Person
Your ideal friend.
Your worst enemy.
A stranger in the crowd.
Someone you respect.
Someone you don't respect.
A person you will never forget.
Your ideal self.
🏝️ Descriptive Essay Topics about a Place
Your dream house.
Moving to a new city.
A place you visited as a child.
An inspiring view.
A place that makes you feel free.
Which town would you like to visit?
🚵 Descriptive Essay Topics about an Experience
A life-changing experience.
A childhood memory.
Your day at school.
Your first date.
Learning a new language.
The most memorable Christmas tree in your life.
🎈 Descriptive Essay Topics about an Object
Your favorite childhood toy.
Your musical instrument: Its shape, sound, and related experiences.
A piece of clothing that elicits your emotions.
A memorable tree in your neighborhood.
A painting that impressed you.
Your favorite dish: How it looks, smells, and tastes.
And we are done!
Use our descriptive essay example and follow the writing prompts to write your perfect descriptive essay on any topic.
Don't underestimate the creativity and basic rules of writing!
Good luck 🍀
🔗 References