Overview
This article provides an insight into the expository essay outline, structure, topics, and general contents from middle school to college and university. This writing is all around us. If you master it, your academic performance will grow exponentially.
Have you ever thought that most of your exam answers are expository essays? You engage in expository writing whenever you write to illuminate, explain or "expose."


Essays are by far not the only variant of the genre. Think of newspaper articles, encyclopedia entries, instruction manuals, and textbooks. All of them are expository, i.e., explaining something.
🎓 Expository Essay: What Is It About?
We'll deliver a custom paper tailored to your requirements.
We'll even cut 15% OFF
your first order!
Use discount
The central purpose of an expository essay is to educate. It can also entertain or persuade the reader, but such purposes are secondary. A well-written expository essay shall demonstrate the author's expertise in the subject. In other words, facts and process description are more critical here than your opinion and conclusions.
As with all other essay types, expository writing has several subtypes.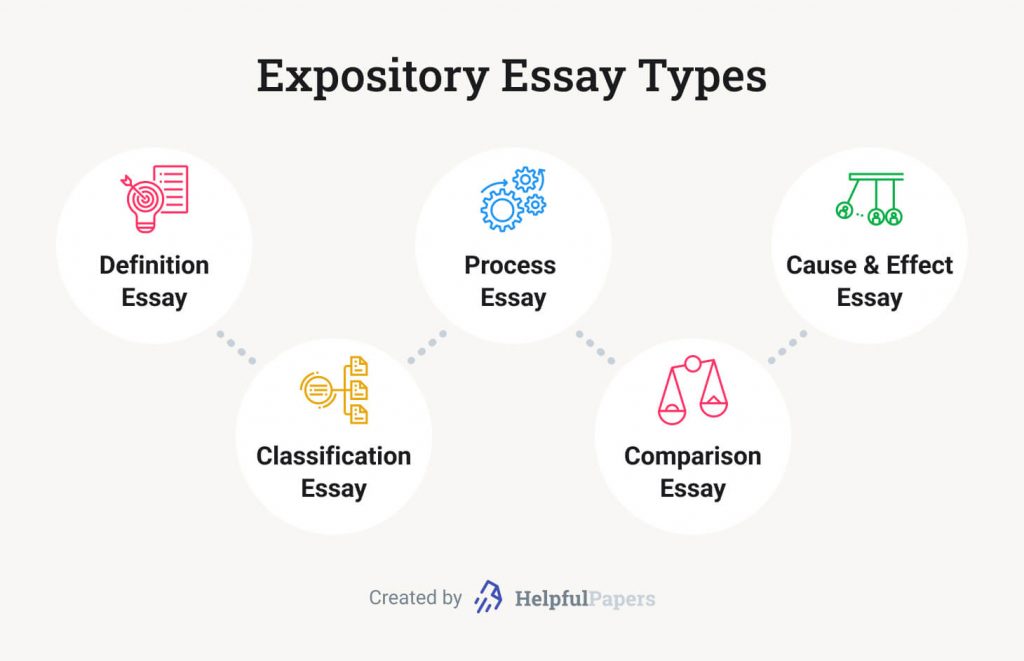 A definition essay

explains a notion by providing the relevant details. For example, you could challenge a common myth attributed to a historical figure by listing personal accounts in memoirs.

A classification essay

chooses a category of any subject and describes the items under it. You should explain the distinctive features of these items. For example, describe the principal causes of earthquakes and show how they are differentiated.

A process essay

is in many ways similar to a user manual. Each paragraph describes the next step, and the conclusion suggests the expected result. For instance, a food recipe is a process essay.

A compare-and-contrast essay

is similar to a classification essay, as it draws a parallel between similar items. But the purpose of this writing is to seek the differences. For example, you may compare the eastern and western educational systems.

A cause-and-effect essay

links two events or phenomena by seeking their co-dependence. Otherwise, it can analyze the current situation to see what brought it to existence. For example, the causes of the Great Depression might be a good cause-and-effect essay topic.
📑 Expository Essay Outline
An expository essay consists of 5 paragraphs. As you may assume, the structure is clear and simple. And despite an article being a piece of creative writing, you should observe the outline below.
Introduction
It usually consists of a single paragraph.

Hook (sentence 1): Catch the reader's attention with a provocative question or strong statement your essay will prove.

Background details

(sentences 2 and 3): Provide an interlink between the hook and the thesis statement. Why did you decide to discuss the topic?
Thesis statement (sentence 4): Tell the reader what your essay will be about in one sentence.

Main body
This section comprises three paragraphs or more if the planned word count allows for that. Here is a basic structure of one paragraph. All the rest will be the same.

Topic sentence

(sentence 1): Link your paragraph to everything mentioned above and mention what this part will be about.

Explanation

(sentences 2 to 5): Give details related to the topic sentence, building up the narrative.

Concluding sentence

(sentence 6): Summarize the details in a single statement. You may also hint at what the next paragraph will discuss.

Conclusion
Reinforce your point by highlighting the most critical statements. Here is a template:

Summary

(sentence 1): Speak about the topic in broad terms.

Overview

(sentences 2 and 3): Expand on the main points, reminding the reader of the critical facts. Try our summarizer to prepare an overview in a couple of clicks.

Key message

(sentence 4): Reiterate the thesis statement or highlight the issue's significance.
Expository Essay Outline Example
Would you like to help other people after your death? Organ donation has become extremely necessary since humanity has learned to transplant vital organs and their parts in the second part of the 20th century. This essay will explain the current demographic and social situation regarding organ donation.
Unfortunately, the number of people wanting to donate their organs after death is still low. According to the Organ Procurement of Transplant Network (OPTN), 21 people die while waiting for an organ every day. Most terminally ill people and their relatives are against organ donation for religious reasons. Public awareness gradually improves the situation, but there are other ways to make people more thoughtful in their dying wishes.
The governments try to encourage people to donate their organs and tissues. To maximize the psychological well-being of future donors, they re-check if the decision was independent and voluntary. Furthermore, they create cross-country waiting lists and lists of organs available. Public education helps to undermine the myths related to the issue and make people more concerned with the problem. These and other efforts make more people realize that some people may need their organs more than they would after death.
The shortage of organs and tissues for transportation is staggering. Religion, common myths, and stereotypes keep people from donating to strangers after death. But public awareness, concern for donors' psychological well-being, and open waiting lists encourage people to change their minds. There is still a long way to go, but the progress is already visible.
💡 Expository Essay Topics
Our Experts can deliver
a custom essay
for a mere 13.00 11.05/page
Learn more
Expository Essay Topics on Health
A way to a healthy diet: My recommendation.
How do you keep fit?
What are the current ethical problems in experimenting on humans?
Inform the reader about heart attack symptoms.
The benefits of organ donation after death.
What are the psychological problems of having cancer?
Explain why abortions are frowned at by the church.
Surrogate pregnancy in the US: Social issues.
Does science know any alternative ways for depression treatment?
Is HIV incurable?
How does drug abuse impact a person's body?
Lifespan: How long do we live and why?
Imagine what would happen if we had free medicine.
Describe the responsibility of medical personnel.
Placebo effect: The causes and the results.
Expository Essay Topics About Education
Write a descriptive essay about your school uniform.
Describe your criteria when choosing the college.
How is the day organized in your high school?
How does rivalry in studies encourage you?
Describe your best teacher and explain your choice.
Strategies to deal with homesickness while studying abroad.
How not burn out during your high school years?
Learning to admit a failure: My way.
The statistics of alcohol abuse at college.
Share your know-how of how to prepare for exams.
Compare and contrast homeschooling and in-school education.
Give examples of ineffective educational policies.
Describe how you manage your homework.
What made you choose your specialization?
The benefits of optional subjects.
Expository Essay Topics on Social Issues
Which influence do video games have on our social life?
How do you make friends?
Compare the modern society and the one that existed 100 years ago.
Why do we buy things we do not need?
How could governments prevent domestic violence?
Accepting the rights of LGBTQ+ makes our society a better place to live.
What are the causes of the high divorce rates in modern families?
Does a modern family give more care to their child than a century ago?
Mental problems are a hot-button social issue.
Why do people get fat-shamed?
Social media: A significant improvement in our lives?
Compare and contrast nationalism and Nazism.
Describe the productivity killers at a workplace.
How can a leader enhance the work of a team?
The era of narcissism: So many photos.
✍️ Expository Essay Writing Tips
On-Time Delivery!

Receive your plagiarism-free paper done
in only 3 hours
Learn more
Select an interesting (i.e., eye-catching) title. Ask yourself: would you open the link if you saw such a title on the web? Be sure to answer "yes."

Research the topic before writing, not while doing it.

Most students opt for an easy topic hoping that it will not require additional studies. But they are unhappily surprised that the subject often lacks available information or is not as simple as expected.
Pre-select reputable resources for evidence. These may be research publications, academic journals, official statistics, etc. You will need them for the main body paragraphs.

Never use biased or unreliable sources of information.

If the data you would like to use is published on a non-specialized website or blog, that's not what you need.

Be careful with stating your opinion.

If you decide to share your opinion about the issue, do not make it as insistent as in a persuasive essay. However, some teachers are against self-expression in expository essays. Make sure to check that beforehand.
Make your text concise and reader-friendly. Arrange your statements logically to make it easier to follow the trail of your thoughts.

The best approach is to write in the 3rd person.

In some instances, you can use 1st person plural ("we, the humanity"), but do not overdo it. Besides, it would also be acceptable to use the 2nd person ("you should do…") while describing processes.
❓ Expository Essay FAQ
What Is the Purpose of an Expository Essay?
Its purpose is to explain a problem or phenomenon with the assumption that the reader has only basic background knowledge of the issue. Provide them with as detailed statements as possible. A successful expository essay leaves the reader feeling that they have learned something new.
How are a Persuasive Essay and an Expository Essay Different?
Although both types of essays let you express your opinion about the subject, a persuasive essay does that more insistently. While its purpose is to persuade, an expository essay aims to inform the reader. Suggesting the author's vision is optional in expository writing.
How to Write a Good Expository Essay?
Select an expository essay topic that excites you.
Research the literature to find the most relevant facts.
Write an expository essay outline based on the data you've found.
Distribute the central ideas between the main body paragraphs.
Write an introduction with background information.
Make up a conclusion summarizing your essay.
How to Write an Expository Essay Thesis Statement?
A thesis statement of an expository essay informs the reader what they are going to learn while reading your piece of writing. It should be the last sentence of the introduction. If your topic is formulated as a question, answer it in this sentence.
🔗 References