Okay, Pepsi or Coke?
We are not ready to answer this question yet. But we can provide you with some writing inspiration! In this article, we will discuss ideas that you can use in your case study on Pepsi. You will find various interesting topics and samples for your paper here.
💣 Mind-Blowing Facts About PepsiCo
We'll deliver a custom paper tailored to your requirements.
We'll even cut 15% OFF
your first order!
Use discount
We are sure you know this company and its products. But have you ever heard about these facts?
The initial name of Pepsi-Cola was "Brad's Drink." The founder's name is Caleb David Bradham. He started the business when he added Pepsi to the soda fountain in his shop.
Pepsi was the first company to use two-liter bottles. In the 70s, the company started using plastic bottles that were cheaper and lighter than glass.
Pepsi's logo changed 11 times. The initial logo didn't even look like the one we are used to seeing now.
Pepsi owns nearly 500 patents. The company even has a patent for its tennis racket!
Pepsi is the first company to use skywriting in advertisements. In 1931, the sky-written word "Pepsi" appeared over the New York City metropolitan area.
Find more interesting information, research topics, and essay examples!
🔝 PepsiCo Case Study – TOP Ideas
The company is famous for many things because of its long history. That is why there are so many research possibilities for students.
Here are the topics you can explore in your case study:
Finance management at PepsiCo.
Corporate culture and values of PepsiCo.
PepsiCo: Business divisions worldwide.
PepsiCo 2021 financial statement review.
PepsiCo: the most successful marketing strategy.
Environmental awareness of PepsiCo.
PepsiCo: global code of conducts.
PepsiCo SWOT Analysis.
What happened between Pepsi and Coca-Cola?
Product diversification strategies at PepsiCo.
Inclusivity among employees at PepsiCo.
Competition in the soft drink market.
Human resource management at PepsiCo.
PepsiCo: opportunities for career growth.
Challenges of COVID-19 for PepsiCo.
👒 PepsiCo Ethical Issues Case Study Idea #1
Our Experts can deliver
a custom essay
for a mere 13.00 11.05/page
Learn more
Ethics and social responsibility contribute to the company's image. You can discuss Pepsi's strong and weak sides in your paper.
Take a look at the top 5 ethical issues:
Customer treatment. Study the expectations of Pepsi customers and why they choose this soft drink. Describe their customer experience.
Attitude to employees. Usually, a code of conduct defines a company's values and employees' expectations. Define the features of Pepsi's human resource management and the company's hiring strategies.
Collaboration with the community. Discuss the interaction of PepsiCo with different social groups. You can explore Pepsi's PR and advertising techniques for audiences with various cultural and financial backgrounds.
Charity and donations. Discuss the funds PepsiCo donates to, the initiatives it supports, etc. Research Pepsi's recent charity campaigns in the US or worldwide.
Production quality. Evaluate Pepsi's products and compare them with the competitors. It can be not only soft drinks, as Pepsi owns various food brands as well.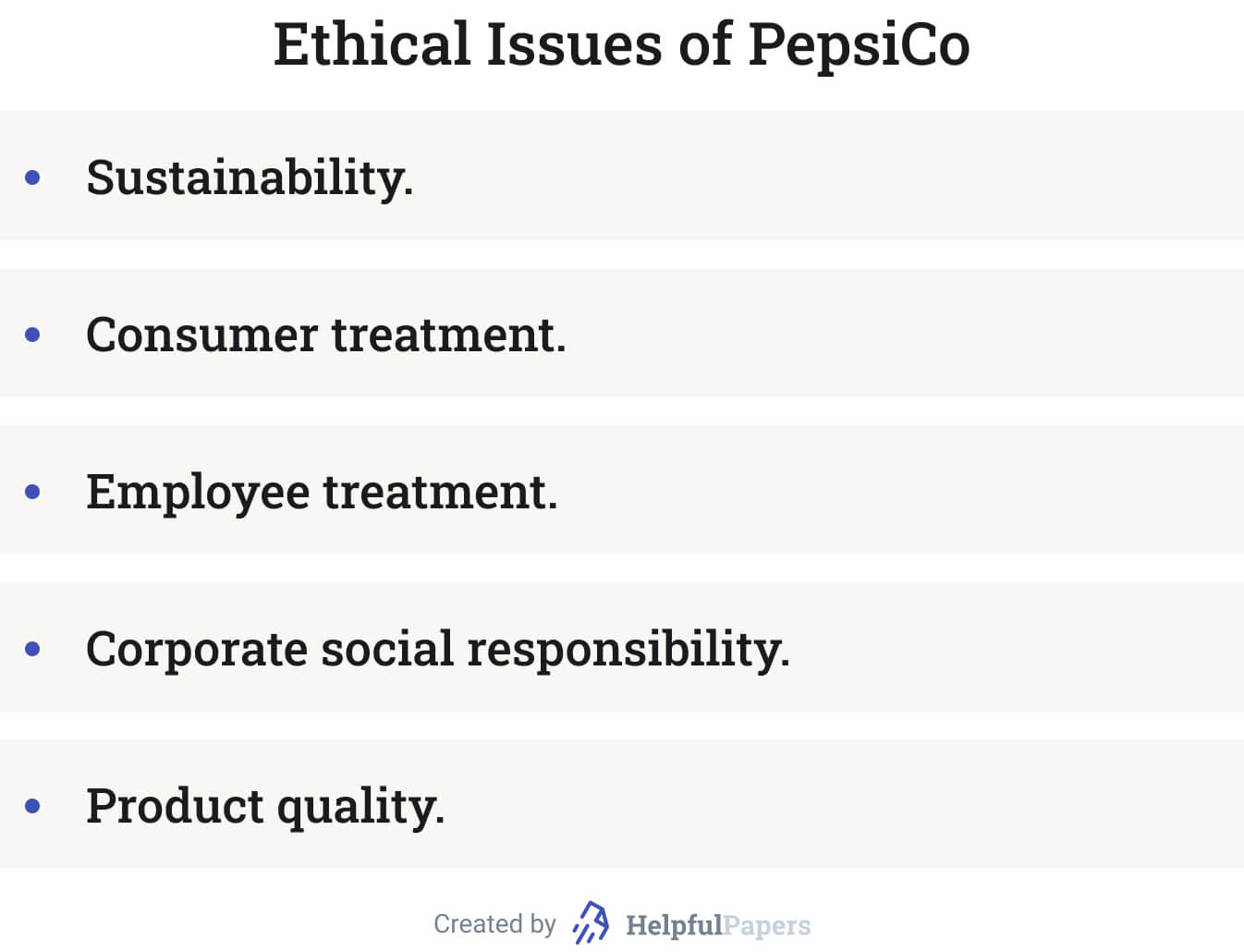 🚚 PepsiCo Supply Chain Case Study Idea #2
On-Time Delivery!

Receive your plagiarism-free paper done
in only 3 hours
Learn more
The quality of supply chains shows the efficiency of the whole business and influences its competitiveness. Here are the topics you can explore in your case study:
Supply chain management strategies. Define the integration processes, logistics, and optimization the company uses. Evaluate their efficiency in the existing markets and suggest possible development opportunities.
Digitalization in PepsiCo supply chain. Study how PepsiCo uses technologies in different departments. Pay attention to the digital development of the company in recent years. You can explore such topics as Artificial Intelligence and Big Data.
The influence of COVID-19 on PepsiCo supply chain. Research the changes and safety precautions the company applied due to the pandemic. Learn how COVID-19 influenced revenue, employment, and working conditions.
Traceability of PepsiCo supply chain. Describe the objectives of traceability and how it works—study traceability of materials, logistics, and food processing. You can also write about the control over transportation and technologies used for this purpose.
Supply chain models used in PepsiCo. Discuss the upstream and downstream model elements in supply chains. You can also write about the optimization, benefits, and drawbacks of different supply models and their evolution in PepsiCo.
☘️ PepsiCo Sustainability Case Study Idea #3
PepsiCo holds enormous sustainability responsibility as a billion-dollar company. It includes environmental, social, and economic impacts. Take a look at the sustainability topics we've prepared for you:
PepsiCo's carbon footprint. Study the amount of carbon dioxide the company produces, its efforts to cut it down, and how successful it is. Define the energy usage levels and compare them with other companies involved in the same sphere.
Pep+ (Pep Positive) strategy. Describe the goals and steps of the course. Explain how it influences the environment. You can focus on one of the program's directions: community, packaging, agriculture, or water.
Sustainable sourcing program. There are several policies you can devote your case study to. Health and safety, agriculture, land use, stewardship, packaging, workplace, palm oil, cane commitment, animal welfare, and anti-bribery compliance. Discuss the progress and the challenges of the program.
PepsiCo sustainability report 2020. Analyze the data provided in the report. Define the company's values and how they prove them based on their actions. Discuss the progress of the company and point out its weak sides.
PepsiCo economic sustainability. You can include the company's impact on developing countries, charity, and other philanthropy efforts. Your case study can be about a specific geographical region or campaign.
📊 PepsiCo Case Study Strategic Management Idea #4
One decision is enough to define the future of the whole company. That's the power managers hold. Check the topics on strategic management below:
Mergers and acquisitions as a growth strategy. Describe the brand portfolio PepsiCo gained using M&A. You can focus on the strategy's benefits, the brands' achievements, and the financial results.
5Cs framework as a guide to business strategy and planning. This concept incorporates the following elements: commercial agenda, building new capabilities, increasing focus on costs, fostering a culture of collaboration, exercise discipline of capital returns.
One PepsiCo strategy. The concept is to promote the association of individual brands with PepsiCo through shared values and philosophy. Describe the instruments used to endorse the strategy. Define the milestones the company has already accomplished and the future steps.
Strategic alliances. PepsiCo aims to develop partnerships on a global scale to boost beverage markets. Examples of cooperation are companies such as Chinese Tingyi, Indian Tata, and Saudi Arabian Almarai. Describe the strategic alliances of PepsiCo and their results.
Organizational culture. Discuss the company's values regarding hiring processes, employee morale, and human resource management. Write about the communication between brands owned by PepsiCo.


️🛩️ Leonard v. PepsiCo – Pepsi Harrier Jet Case Idea #5
Also known as Pepsi Points Case, the accident happened in 1999. Let's discuss the important events:
Pepsi Stuff loyalty program. People could purchase specially marked Pepsi products and receive points. It was also possible to buy Pepsi Points, 10 cents each. Then people could trade them for such goods as t-shirts, sunglasses, or caps.
Harrier Jet for 7,000,000 Pepsi Points. It was a joke. The actual worth of the jet was around 3 million dollars then. However, 21-year-old John Leonard decided to obtain it using Pepsi Points and took five loans to pay for them.
Legal procedure. John Leonard sued PepsiCo, Inc. after the company refused to trade a Harrier Jet for 7,000,000 points. He accused the company of breaching the contract and fraud.
Court decision. The company insisted that the ad's content was humorous and the situation was implausible. The court confirmed that the TV commercial didn't constitute an offer.
Outcomes. Pepsi continued showing the advertisement with a few adjustments. They changed the price of the jet to 700,000,000 Pepsi Points. Also, they added a "just kidding" disclaimer at the end.
🤓 PepsiCo Diversity Case Study – Idea #6
Every company should be inclusive, no matter what its scale is. Such prominent companies as Pepsi are trendsetters on the market. Check this list of diversity topics:
Diversity and inclusion: a historical perspective. Discuss the efforts of PepsiCo to build an inclusive business, its achievements, and challenges in a specific timeframe.
Diversity and Inclusion Annual Report 2020. Analyze the accomplishments of PepsiCo in 2020. You also can make a SWOT analysis based on the information from the report.
Expand focus. PepsiCo endorses not only internal market changes but also external ones. It includes encouraging their employees to support their local businesses.
Global diversity in PepsiCo. You can choose a country or an area which you want to study. Research the diversity and inclusivity in this branch and define the peculiarities and challenges.
PepsiCo diversity goals. Discuss the ambitions and plans of the company and their possible impact on the employees and society.
🍲 PepsiCo Restaurants Case Study Analysis – Idea #7
PepsiCo used to owe several fast-food restaurant chains, including Taco Bell and KFC. In 1997, the company sold these chains to Ameriserve Food Distribution Inc. You can research the topics we have selected:
Tricon Global Restaurants. Created in 1997, PepsiCo's fast-food division became the parent company of KFC, Taco Bell, and Pizza Hut. Study the company and the reasons for the spin-off.
Yum! Brands in the United States. Research the company's acquisitions, business decisions, and financial performance.
Yum! 's international expansion. Evaluate the impact of the restaurant change on the global market. Study the stages of the process, the merges, and company purchases.
KFC business model. KFC is the most successful fast-food chain among Yum! Brands. Study the reasons for financial success and brand acknowledgment around the world.
Yum! 's former restaurants. Define the reasons for selling or merging with restaurant chains with Yum! Brands.
💭 PepsiCo Case Study – 30 Best Examples
We have prepared a wide selection of case study examples on the soft drink market. Our primary focus is PepsiCo and its main competitors. Explore some new topics and read case study samples:
💡 More PepsiCo Case Study Ideas
PepsiCo: promotion strategies in different cultural environments.
The influence of healthy lifestyle endorsement on PepsiCo.
Product diversity of PepsiCo in different markets.
The market share of PepsiCo in Europe.
Promising markets for PepsiCo expansion.
PepsiCo operational management in South Africa.
Human rights policies in PepsiCo.
The influence of Pepsi on human health.
Pepsi's Social Media Analysis.
Corporate governance of PepsiCo.
PepsiCo: 2021 marketing campaigns overview.
Contract farming benefits for Pepsi.
PepsiCo: balanced scorecard strategic system.
The functions of intranet in PepsiCo.
PepsiCo: a socially responsible brand.
Addressing environmental issues at PepsiCo.
PepsiCo: collaborations with local suppliers.
The main problems of PepsiCo in the United States.
The influence of healthy lifestyle endorsement on PepsiCo.
Interview at PepsiCo: questions and answers.
PepsiCo: basic message, mission, and vision.
The cooperation between PepsiCo and local farmers.
Pepsi's corporate responsibilities.
PepsiCo as a workplace: advantages and disadvantages.
The influence of PepsiCo on small local brands.
PEST analysis of PepsiCo.
Advertising and marketing to children: strategic decisions of PepsiCo.
PepsiCo: innovative promotion technologies.
PepsiCo values and principles.
The comparison of Pepsi in 2020 and 2021.
🔗 References