Is there a more iconic symbol of American culture than McDonald's?
The fast-food industry has shaped the modern lifestyle, not only in the USA. McDonald's Corporation is present in over 100 countries and has more than 1.7 million employees. There are a lot of helpful business lessons a student can learn from doing the McDonald's case study.
🍔5 Facts About McDonald's Supply Chain
We'll deliver a custom paper tailored to your requirements.
We'll even cut 15% OFF
your first order!
Use discount


A new McDonald's opens nearly every 14.5 hours. McDonald's supply chain management made the company the number one fast-food chain globally.
McDonald's has one of the best supply chains in the world. In 2016, it was ranked the second-best in the Top Supply Chains by Gartner.
McDonald's uses The Three-Legged Stool approach for franchising. The company's founder Ray Kroc designed this method: the first leg is McDonald's employees, the second is the franchise owners, and the third is the suppliers.
Products are transported to McDonald's restaurants by special cars. They are equipped with innovative temperature-control mechanisms. Check out our free essay samples to learn more about McDonald's supply chain.
🥬 McDonald's Case Study – Fresh Ideas
Various factors contribute to McDonald's successful financial performance. Here're some ideas to consider when doing the McDonald's case study.
Corporate culture.
Vertical integration of the supply chain.
International menu variations.
McDonald's inventory management system.
Storage and distribution systems.
Marketing principles.
Recruitment practices at McDonald's.
Suppliers' code.
McDonald's largest suppliers.
🚚 McDonald's Supply and Demand Analysis
Our Experts can deliver
a custom essay
for a mere 13.00 11.05/page
Learn more
McDonald's supply chain overview
McDonald's outsources 100% of its supply needs. The company grows its products through contracted producers and transports its own goods. McDonald's supply chain promotes growth not only for the restaurants but also for the suppliers.
McDonald's consumers' demands
Most customers expect quick and simple ordering from McDonald's restaurants. Having failed the experiment with pizza in the 1990s, McDonald's has stuck to hamburgers, cheeseburgers, and French fries on the menu.
McDonald's business strategy for supply and demand
Here are some of the main McDonalds's principles:

McDonald's model is a win-win relationship between the company, the suppliers, and the customers.
Instead of looking for suppliers that offer the best price, McDonald's maintains long-term relationships with existing ones.
McDonald's does not micromanage business partners in its business model.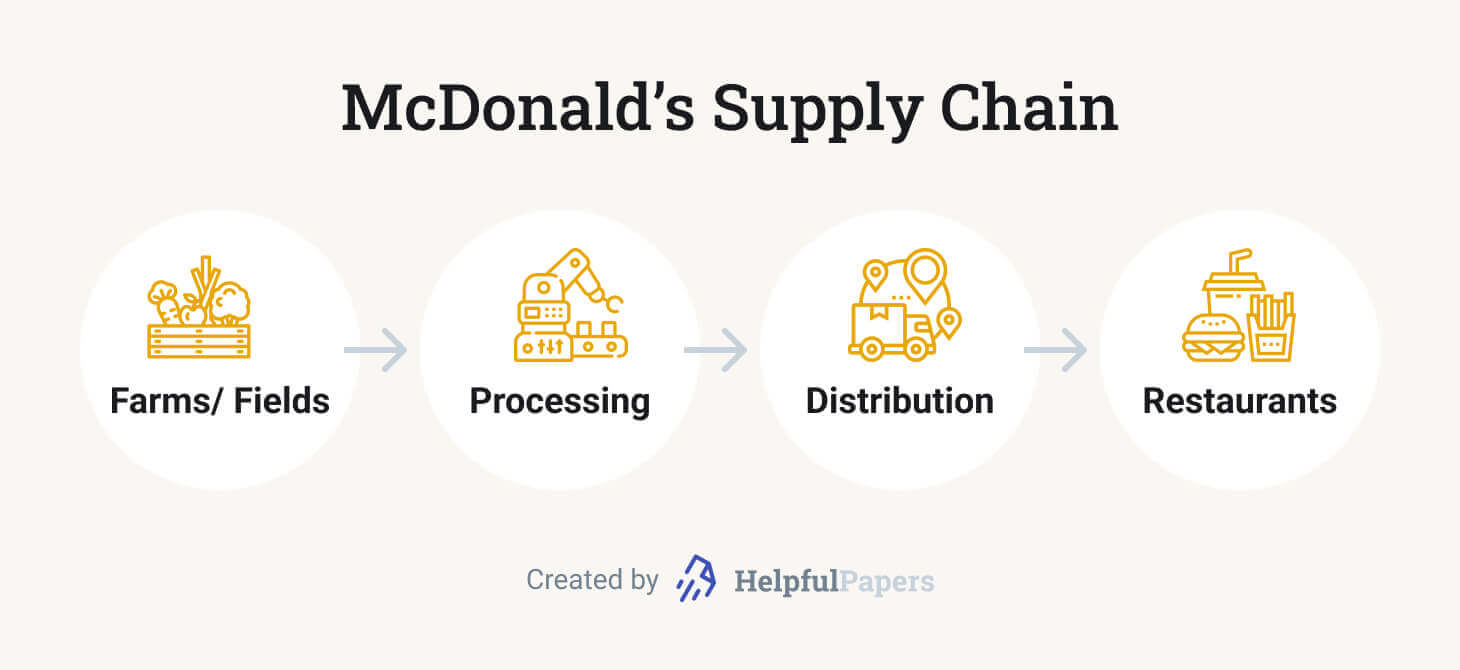 📈 McDonald's Supply Chain Case Study
On-Time Delivery!

Receive your plagiarism-free paper done
in only 3 hours
Learn more
McDonald's supply chain: sustainability
McDonald's aims to use natural resources to contribute to protecting the environment. One of the significant steps in this process is utilizing nature-positive supply chains. While trying to reduce their impact on nature, the company also develops a more sustainable global economy.
McDonald's supply chain: economics
McDonald's works with its suppliers to research and share the best practices to increase productivity and financial performance. The company aims to reduce hunger and provide decent jobs to its suppliers worldwide.
McDonald's supply chain: food safety
Food safety is a serious responsibility of McDonald's. To help with this, suppliers have special programs allowing them to track food in the supply chain. Moreover, McDonald's approaches a Food Safety Advisory Council to educate its employees about food safety.
💊 McDonald's Supply Chain Issues
McDonald's switching from frozen to fresh burgers
Since 2012, McDonald's has lost 500 million restaurant visits as customers have chosen more fast-casual alternatives that provide fresh burgers. For that reason, in 2018, the company announced that it was switching to fresh patties instead of frozen in its burgers at 300 U.S. restaurants.
McDonald's supply chain issues due to Covid-19
In 2021, McDonald's lacked some bottled drinks across its 1,250 restaurants in Great Britain. This happened because of a shortage of lorry drivers due to Covid-19 restrictions and self-isolation rules.
McDonald's supply chain disruptions
Supply chain disruptions can significantly impact McDonald's financial performance and reputation. To reduce the negative impact, McDonald's has multiple supply backup sources. McDonald's has tested and trustworthy suppliers ready to help if a disruption occurs.


📚 McDonald's Demand Analysis
Menu and burgers at McDonald's
McDonald's used to make the tastiest hamburgers in America. However, this award today goes to other fast-food restaurants, such as Shake Shack. To win back customers, McDonald's needs to focus on improving the quality of its core products.
Lower prices at McDonald's
McDonald's customers are unwilling to spend more than $5 on a hamburger. McDonald's has a simplified menu and self-serve ordering system to lower its prices. It is important to notice that organic food and high quality are not the first things consumers want from McDonald's.
Customer service at McDonald's
McDonald's employees' essential quality is having a passion for people. McDonald's adopts a multi-channel communication system to ensure that all its messages from the customers are delivered to staff. McDonald's collects feedback and complaints on its website to identify factors affecting the demand.
👍 McDonald's Case Study – 27 Best Examples
McDonald's Supply Chain Issues
McDonald's Marketing Strategies & Advertisement Campaign
McDonald's Human Resource Management & Employment
Mcdonald's Financial Performance & Market Influence
🔗 References