Did you know that Walmart is the world's largest company by revenue? Walmart Inc. makes nearly a trillion dollars annually and has 2.3 million employees. And what makes Walmart even more remarkable is that it is the world's biggest family-owned business! Below are a lot of helpful business lessons a student can take away from doing the Walmart case study.
🍭5 Unknown Facts about Walmart
We'll deliver a custom paper tailored to your requirements.
We'll even cut 15% OFF
your first order!
Use discount
💡 Walmart Case Study – Topic Ideas
Various factors contribute to Walmart's business performance. When doing a Walmart case study, you can choose the sphere that interests you the most. Here's the list of possible topic ideas.
The history of Walmart company.
Influence on the U.S. market.
Corporate values and vision.
Financial performance over the years.
Operating divisions and departments.
International expansion.
Walmart's bestselling products and brands.
Supply chain.
Marketing strategies and e-commerce.
Sustainability and CSR policy.
Environmental initiatives.
Employment and internships at Walmart.
Walmart's strategic management.
Key competitors in the retail market.
Criticism and controversies around Walmart.


🤓 Walmart Case Study Strategic Management
Our Experts can deliver
a custom essay
for a mere 13.00 11.05/page
Learn more
Walmart's design of goods and services
Walmart's consumer goods are designed to be easy to mass-produce and cheap. However, the company owns some more expensive brands, like Great Value and Sam's Choice. Walmart actively uses recycled materials in its product designs to reduce its carbon footprint.
Walmart's quality management
Since Walmart is a giant corporation with numerous individual stores, providing quality control is difficult. In 2010, the company decided to join the Global Food Safety Initiative. Today Walmart's food suppliers undergo factory checks, including the production of meat, fish, and ready-to-eat meals.
Walmart's location strategy
Walmart aims to maximize accessibility for consumers by building new stores near urban centers and the most populated areas. According to statistics, 95% of U.S. shoppers nowadays spend money at Walmart.
🌐 Walmart Global Challenges
On-Time Delivery!

Receive your plagiarism-free paper done
in only 3 hours
Learn more
Walmart's international presence
Today Walmart's international presence includes 5,224 stores in 23 countries outside the U.S. The top international locations are:

The UK,
Canada,
Brazil,
Argentina.


Moreover, Walmart is the largest private employer in the United States, Mexico, and Canada.
Walmart's success in international markets
Its unique business model and market entrance strategies are essential to Walmart's success in international markets. For example, Walmart promotes the "Everyday Low Prices" program, attracting new customers in the U.S. and other countries.
Walmart's international challenges
The biggest challenge for Walmart's managers is to understand their local customers' needs in every country they serve. India and China are excellent examples of this challenge. Large stores are expensive in these countries, and people prefer smaller neighborhood stores. Walmart has to convince potential customers that they can provide fresh and quality products at low prices.
🚚 Walmart Supply Chain Management Case Study
An overview of Walmart's supply chain
Overall, Walmart operates in more than 11,700 stores under 59 company brands in 28 countries worldwide. Having effective supply chain management is essential for such an influential company. Luckily, Walmart has become the perfect example of successful supply chain management transitioning from a regional retailer to a global one.
Fewer links in Walmart's supply chain
Walmart's supply chain innovation began when the company removed a few of the chain's links. In the 1980s, Walmart decided to work directly with the manufacturers to cut costs. The company's supply chain has only become more effective since then.
An inventory innovation at Walmart
Walmart has always found products at the best price from suppliers who can meet the company's demand. Walmart establishes strategic partnerships with most of its vendors, offering them long-term and high-volume purchases for the lowest possible prices.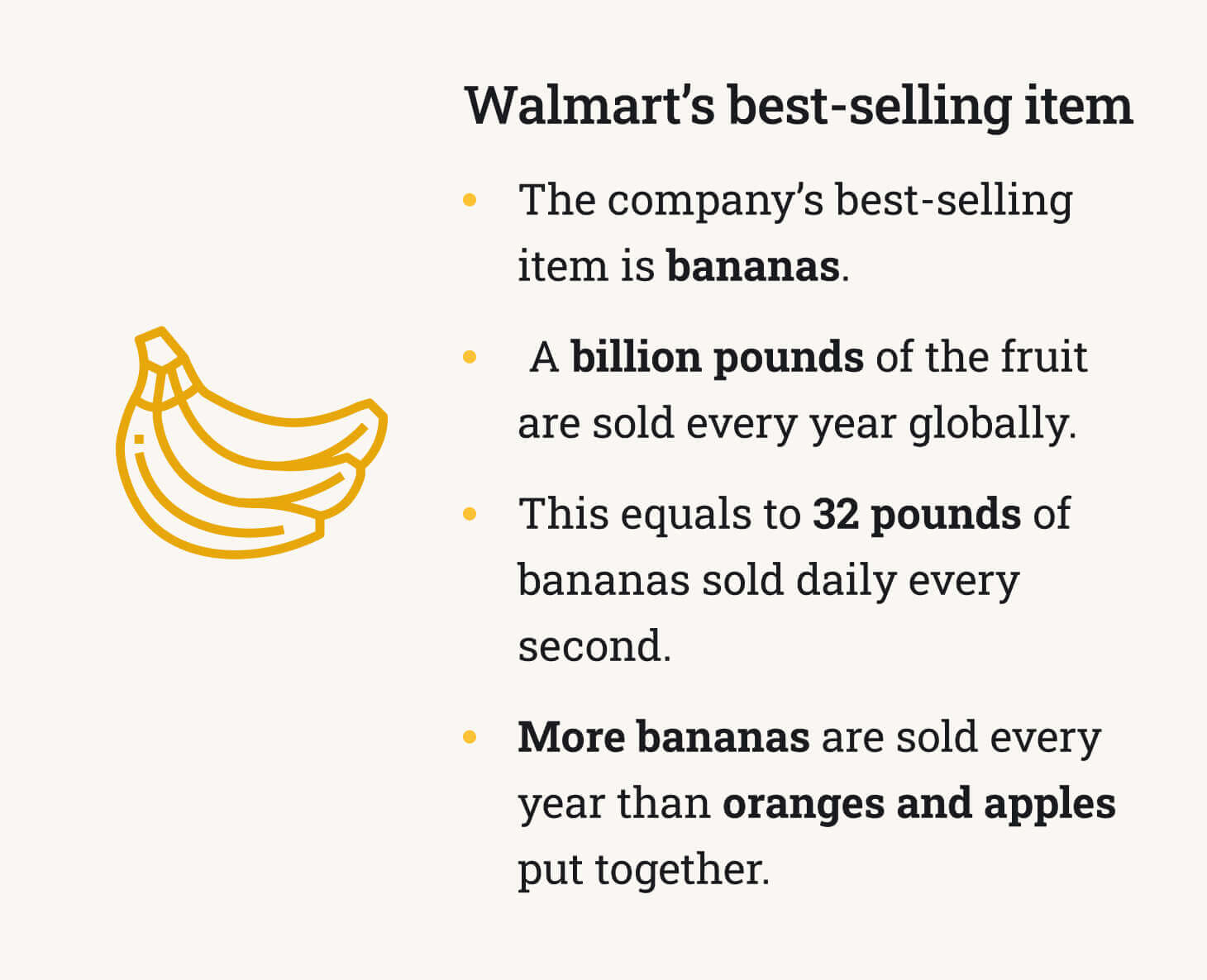 🏋️‍♂️ Walmart Competitive Advantage Case Study
Walmart's key competitors
Walmart offers a wide range of products, such as:

Furniture,
Electronics,
Clothes,
Groceries.


The company serves over 265 million customers online and in its numerous stores per week. To maintain its market leadership, Walmart has to compete with brands like Amazon, Target, and Costco.
Walmart's cost leadership
Walmart's key competitive advantage is that it offers low prices. The company's slogan says, "Always low prices, always Walmart." However, Walmart ensures that its low prices will always be backed by quality and a wide selection of recognizable brands.
The power of Walmart's customer service
Walmart has one of the retail sector's most favorable customer service policies. The company allows customers to return the goods up to 90 days after the purchase, even without the receipt.
🛍️ Walmart Vs. Amazon Case Study
Walmart vs. Amazon: financial performance
At the end of 2020, Walmart had a revenue of $559 billion, with more than 2.3 million employees working for the company. When it comes to Amazon, the overall income was $386 billion, with around 1.3 million employees worldwide. Even though Walmart maintains economic leadership, Amazon is rapidly developing and might surpass Walmart in 2022.
Walmart vs. Amazon: focus on customers
Both Amazon and Walmart work hard to improve their customers' experience. However, they differ in some approaches, resulting from Amazon focusing on e-commerce and Walmart enhancing customers' shopping experience in stores.
Walmart vs. Amazon: technology
Walmart and Amazon are known for using innovative technology in the retail sphere. For example, in Boston, Amazon has the Amazon Robotics department, where robots are built to enhance customer experience. At the same time, Walmart has a unique technology for online order fulfillment. Walmart's Alphabot chooses, packs, and transports online grocery items according to customers' preferences.
🧸 Walmart Gender Discrimination Case Study
The lawsuit against Walmart
In February 2022, the Equal Employment Opportunity Commission (EEOC) introduced a lawsuit against a Walmart store in Iowa. The lawsuit states that Walmart had violated federal law by providing a Black female employee an unsanitary place to breastfeed her child because of her race and gender.
The statement from Walmart
Walmart's representatives insist that the company does not tolerate discrimination. Moreover, diversity and inclusion have always been vital corporate values for Walmart. The company announced that it is ready to investigate the case matter and will address all the claims in court.
A lesson to learn from the Walmart discrimination case.
To avoid the harmful effects of gender discrimination in the future, Walmart needs to have women present at all levels of management. Workplace rules and norms can only be established by someone who can relate to female employees' problems and needs.
💸 Walmart Bribery Case Study
An overview of the Walmart bribery case
Walmart has been profiting from international expansion for many years. However, it was claimed that the company hadn't taken the necessary steps to avoid corruption. In 2020, the Justice Department said that Walmart's subsidiaries in Mexico, India, Brazil, and China had paid government officials to obtain store licenses.
Walmart's response to the accusation
The retailer's chief executive of Walmart promised to enhance the company's policies, procedures, and systems that control ethics and compliance. Walmart also stated that it had spent over $900 million on related matters, including investigations and its global compliance program.
Walmart's financial losses
Walmart was charged to pay more than $144 million to settle the charges by the Securities and Exchange Commission and around $138 million to resolve the charges by the U.S. Department of Justice.
⏳ Walmart Crisis Management
Walmart's disaster preparedness & response strategy
Walmart's disaster preparedness strategy is a part of the company's Global Security program. This program protects the company's employees, facilities, information, and inventory. A team of Walmart's emergency management experts is responsible for the prevention and recovery efforts.
Walmart's crisis management during the Covid-19
Walmart didn't have to close when Coronavirus hit, being a major essential retailer. The company even benefited from the customers stocking in stores and buying goods online. To ensure the stores operate safely, Walmart provided the employees with all the protective measures and paid sick leaves.
Walmart's crisis management for "Fat Girl Costumes"
In 2014, Walmart reached out to the plus-size market by offering online shoppers a section of "Fat Girl Costumes." Many Twitter users found it offensive and asked Walmart for a public apology. Walmart removed the category in less than 5 hours and apologized on Twitter.
👍 Walmart Case Study – 45 Best Examples
🔗References