What marketing strategy can sell a $38,000 plane ticket?
Etihad Airlines knows how to deal with luxury services. 😎
Read this article to prepare a case study on Etihad Airways' marketing strategy, supply chain management, or sustainability. We have plenty of ideas and samples here; fasten your seatbelts!
🖼️ Etihad Airways Company Profile
We'll deliver a custom paper tailored to your requirements.
We'll even cut 15% OFF
your first order!
Use discount
Let's read some facts about the company first:
Etihad Airways was established in 2003 in the UAE. The following year, the company ordered 6 Boeing 777 and 24 Airbus aircraft. This order cost the company $8 billion and made it the second airline after Emirates in the UAE.
Etihad Aviation Group incorporates five business divisions: Etihad Airways Engineering, Etihad Airport Services, Hala Group, and Airline Equity Partners.
Etihad Airways is the second UAE airline after Emirates generating more than 9 billion dollars annually.
Etihad Aviation Group employs 25 thousand people of more than 154 nationalities. Most of them are a part of the flight crew or airport services.
Etihad Airways works with 120 destinations in 55 countries. The company operates more than 1000 flights a week.
👍 Etihad Airways Case Study – Best Ideas
There are many elements to consider about Etihad, including finance, marketing, services, sustainability, competition on the market, etc.
We have prepared a list of fresh ideas for your case study about Etihad Airlines:
Reputation overview.
Marketing campaigns.
Business model.
Innovative sustainability approach.
Recruiting strategies.
Customer satisfaction analysis.
PR strategies.
Market segmentation.
Career prospects at Etihad Airlines.
Etihad Airlines' carbon footprint.
Etihad Airways' values and mission.
Pricing strategies.
Etihad Airways revenue analysis.
Corporate culture.
Looking for more research topics? Here you are!
📈 Etihad Airways Marketing Strategy – Case Study Idea #1
Our Experts can deliver
a custom essay
for a mere 13.00 11.05/page
Learn more
Here are the marketing mix aspects you can use in your case study:
Abu Dhabi representation.
The brand's visual identity aims to reflect the spirit of the UAE to attract investors and clients. The corporative colors and geomantic shapes represent the capital of the UAE.
Promotion and advertising.
The company uses printed and digital resources to advertise its services. Etihad Airlines also sponsors sports events such as New York City FC.
Exclusive luxury services.
The company offers a $64,000 19-hour New York – Abu Dhabi flight, the most expensive flight in the world. "The Residence by Etihad" on A380 contains a living room, two bedrooms, and a bathroom.
Digital marketing plan.
Etihad's Instagram has 1.8 million followers and keeps growing. The company is also active on LinkedIn, Facebook, and Twitter.
Target market.
Etihad offers passenger and cargo flights in:

Africa
Asia
The Middle East
Australia
North America
Europe


📜 Etihad Airways Company History – Case Study Idea #2
On-Time Delivery!

Receive your plagiarism-free paper done
in only 3 hours
Learn more
You can devote your case study to these stages of the company's existence:
Establishing the airline.
Creating the airline was the initiative of Sheikh Khalifa bin Zayed Al Nahyan. The initial paid-up capital was 500 million AED, which is approximately 136 million dollars. On the 5th of November 2003, the company made the first flight From Abu Dhabi to Al Ain.
Brand positioning.
The company specializes in cargo and passenger flights. In addition, it offers different pricing solutions, from economy class flights to the most expensive flights in the world.
Equity alliance.
Etihad Airways owns stakes in other airlines such as:

Air Berlin
Alitalia
Virgin Australia
Air Serbia
Aer Lingus

Etihad expansion.
In 2008, Etihad placed a $43-billion order to purchase an aircraft. It was the largest transaction in the commercial aviation industry.
COVID-19 outcomes.
Because of the restrictions and decrease in the demand for traveling, Etihad Airlines canceled several orders for planes. Etihad Airlines provided vaccination to all cabin crew and pilots in February 2021.
🚚 Etihad Airways Supply Chain Management – Case Study Idea #3
Here are some supply chain ideas for you:
General supply chain.
Discuss how the logistics of goods and services in Etihad Airways work. Apart from passenger transportation services, you can discuss fuel supply, accommodation, airport services, and equipment.
Supply chain management.
Etihad focuses on clients' needs both in cargo and passenger flights. Research supply management systems and actions to provide good-quality services and ensure customer satisfaction.
Transportation models.
Etihad Airways uses intermodal transportation. The company involves various vehicles for the same purposes, mainly freight services. The choice of transport might depend on the weather conditions, customer preferences, and accessibility.
Strategic distribution decisions.
Etihad Airways communicates every strategic decision with its customers and suppliers. The company's head and local offices are responsible for all the inventory procedures and documentation.
Inventory management.
The management has to control the availability of all flight classes, the serviceability of the planes, and the functionality of online services. Plane maintenance also requires complex management.
🌎 Etihad Airways Sustainability – Case Study Idea #4
Sustainability defines the company's reputation as a good airline. It also influences the possible clients' and employees' attitudes.
How ethical and sustainable is Etihad Airways? Let's find out:
Ecological impact.
Aircraft produce significant amounts of CO2 emissions. Research how Etihad Airways addresses this problem. You can study such aspects as fuels, engines, operational effectiveness, and contrail control.
Customer care.
Study the communication channels, tone of voice, special services, and loyalty programs in Etihad Airways. In addition, check the level of client satisfaction with Etihad Airways services.
Working conditions.
Observe the jobs of the flight crew in Etihad Airways or various positions in Etihad Aviation Group. You can compare salary information with its competitors in the airline industry.
Sustainable traveling opportunities.
Etihad Airways offers its clients several ways to reduce their carbon footprint. There is an opportunity to donate money or Etihad Guest Miles to CarbonClick. The airline encourages passengers to carry less baggage and use their app instead of printed tickets.
Partnership with Boeing.
The two companies established the alliance to focus on sustainable flight operations. The partnership aims to enhance navigation, airframe technologies, and flight planning. Discuss the objectives of the ecoDemonstrator program and its milestones.
You also can find Etihad's sustainability position on its official website or download a pdf file.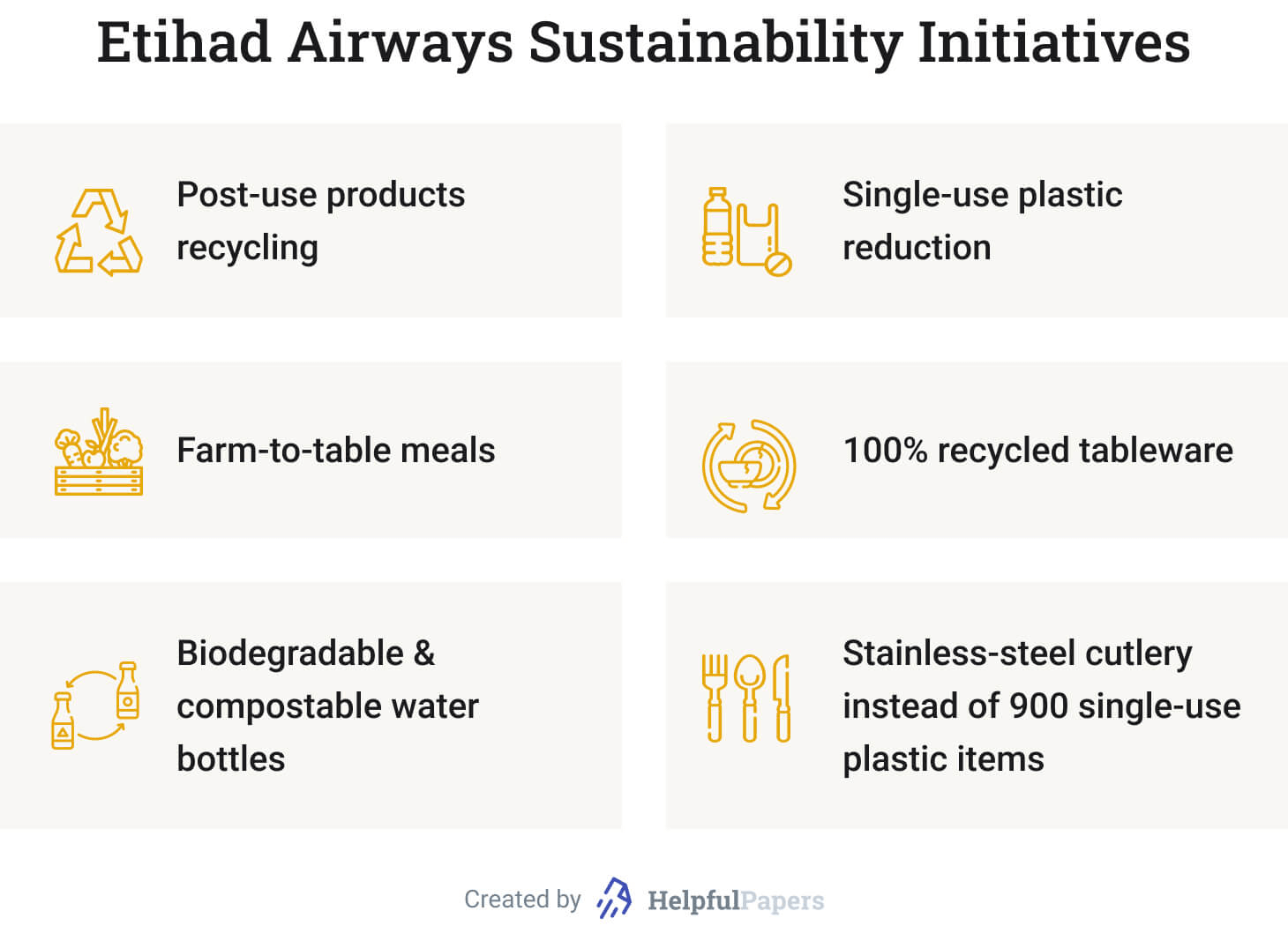 ✈️ Etihad Airways Case Study – 18 Best Examples
Take your time to read these samples devoted to the airline industry and Etihad Airlines in particular:
📚 More Etihad Airways Case Study Ideas
It is never too much! Here are more topics for your case study, essay, or research paper on Etihad Airlines:
Etihad Airlines: strategic analysis.
Is Etihad Airlines' business class worth it?
Etihad Airways: SWOT analysis.
Etihad Airlines vs. Emirates in the premium segment.
Etihad Airways: value chain analysis.
Is Etihad Airways better than Emirates?
Etihad's loyalty program effectiveness.
Etihad Airlines' business trends.
Analysis of passenger load at Etihad Airways.
The influence of the 2008 crisis on Etihad Airlines.
Etihad Airlines: turnover analysis.
Charity programs supported by Etihad Airlines.
Etihad Airlines: in-flight entertainment overview.
Marketing communication strategies of Etihad Airways.
Etihad Airlines' "Premium Economy" class pricing strategies.
The main competitors of Etihad Airways.
Tracking technologies used in Etihad Airways.
Etihad Airlines on the European market.
Etihad Airways: internal and external environment.
The influence of oil price changes on Etihad Airlines.
Etihad Airlines: branding and design.
Corporate responsibility at Etihad Airtimes.
Etihad's shares in other airlines.
Etihad Airlines' foundation process.
Etihad Airlines: the benefits of biofuel.
Strategic business planning at Etihad Airways.
"Choose well" platform by Etihad Airlines.
Etihad Airways: fleet analysis.
Etihad Airlines: incidents and reputation.
Etihad Airways sponsorships and initiatives.
🔗 References