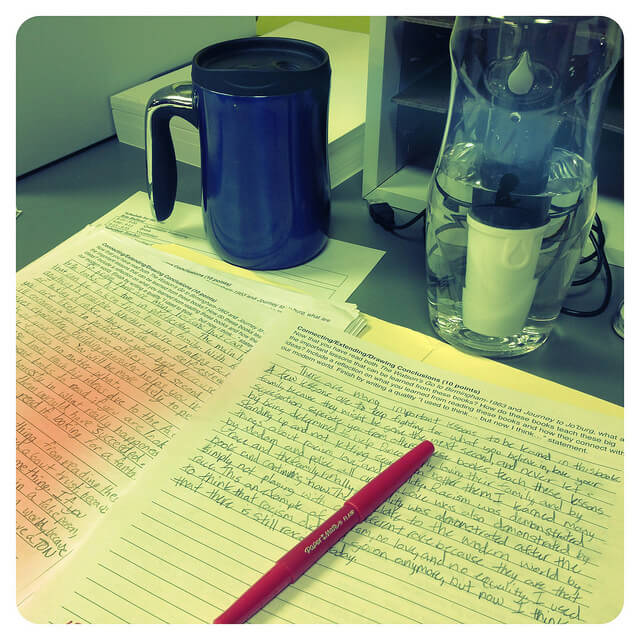 You may think that format of your essay is not very important. However, this is what produces the first impression on your teachers.
Even before they discover occasional typos or grammar errors, teachers see how you've formatted it. That's why it does make sense to put extra effort into essay format.

1️⃣ Fonts, Spacing, Margins
The first step to better essay format is the easiest one. Make a few clicks to set the font, margins and spacing of your paper:
Press Ctrl + A to select all.
Make margins 2.54 cm (1 inch) on all sides.
Set font Times New Roman (Arial) 12.
Select double spacing for the entire document.
Delete extra spacing before and after every paragraph.
2️⃣ Citations
Another important principle of proper essay format is citing every source you use:
Be sure to mention every source you use in the reference list at the end of your paper.
Include in-text citations from every source on your reference list into your project.
Properly format your reference list – alphabetically order your entries and adjust them to the requirements of the corresponding citation style.
3️⃣ Page Numbers
Be sure to include the page numbers in the upper right corner of the page (unless something different is requested). In the MLA style, the page number should be preceded by your first name. Remember that there's an option "start from…" for page numbers if you don't need a page number on your title page, for example.
4️⃣ Header
Header is an important part of essay format. Simply click two times on the place of the header to edit it. Then click on the rest of the page to turn off the header editing mode.
APA: Include 'Running head: SHORT TITLE' on the first page and only 'SHORT TITLE' on the second and all the following pages of your project. Use the 'special format for the first page' option in Word.
MLA: Only page number and your first name in the upper right corner as your header: 'Smith 1'.
5️⃣ Five Paragraphs
The logical structure is another important parameter. Here's what a standard five paragraph structure should look like:
Introduction (including a strong thesis statement as its last sentence).
Main body first paragraph.
Main body second paragraph.
Main body third paragraph.
Conclusion.
Don't forget to include transition sentences at the end of each paragraph and topic sentences, summarizing the main argument that will follow, at the beginning of every main body section.