If you are on this page, you are likely to be interested in the twists and turns of passing TOEFL. Good for you! Here we reveal all the essential information concerning preparation for TOEFL at home.
You'll also find valuable tips and tricks on every section of this exam.
Now.
We are focusing on TOEFL iBT.
Ever heard of it?
The acronym 'iBT' stands for Internet-Based Test. It is a customary Test of English as a Foreign Language which you can take online.
Excited enough? Then get down to reading the article and figuring out all the details!
🐣 Cracking TOEFL iBT [non scholae sed vitae]
We'll deliver a custom paper tailored to your requirements.
We'll even cut 15% OFF
your first order!
Use discount
What does this Latin saying have to do with passing exams?
A famous philosopher Seneca grieved that people study for school and not for life. We aim to destroy this stereotype. We want to learn not for school, but life!
The point is to turn the preparation process into general skills development. You are an ace if you preserve your knowledge after you pass the test 🧑‍🎓
As for the TOEFL exam, long-term memory is a very reasonable thing that leads to a higher score. Plus, you'll be able to use gained skills in life.
What Are the Best Strategies for Cracking TOEFL iBT?
Look through the fundamental tips which are a must for exam preparation!
| | | |
| --- | --- | --- |
| 🔹 | Enrich Your Vocabulary | TOEFL is famous for its diverse vocabulary. |
| 🔹 | Extend Your Attention Span | You have to be able to concentrate on tasks for a particular time. |
| 🔹 | Learn Reading Techniques | Skimming, scanning, and pre-reading tasks will help you get the information efficiently. |
| 🔹 | Take Notes | In different parts of the exam, you can use these extracts at a crucial moment. |
| 🔹 | Make Mind Maps | Data structuring is a top-notch method of memorizing. |
| 🔹 | Retell What You Read | Explaining the material aloud is a suitable check-out of your text understanding. |
| 🔹 | Keep a Comfortable Pace | Choose the tempo you feel good at while working and stick to it. |
| 🔹 | Take Sample Tests | It is the milestone of your preparation: many online services offer actual TOEFL tests. |
| 🔹 | Use Learning Techniques | There are many methods for an efficient study process, like the Pomodoro technique. Try out a couple of them and pick out the most appropriate. |
| 🔹 | Find Your Power Place | Find out the spot where you feel most concentrated. Nothing should distract you. |
🔬 TOEFL Sections [Exam Content]
Are you aware of the TOEFL exam contents? You must know for sure what does it include. Knowing the exam sections beforehand allows you to spot your weaknesses and saves time during the exam.
Let's explore each section so you could outline your preparation plan.
TOEFL Reading
Being the first part of the exam, a regular Reading section in TOEFL presents:
Three text passages with 10 questions for each;
54-minutes time limit to complete the task;
Text pieces of ~700 words.
The extended version includes one additional passage with 10 extra questions and a time limit of 72 minutes.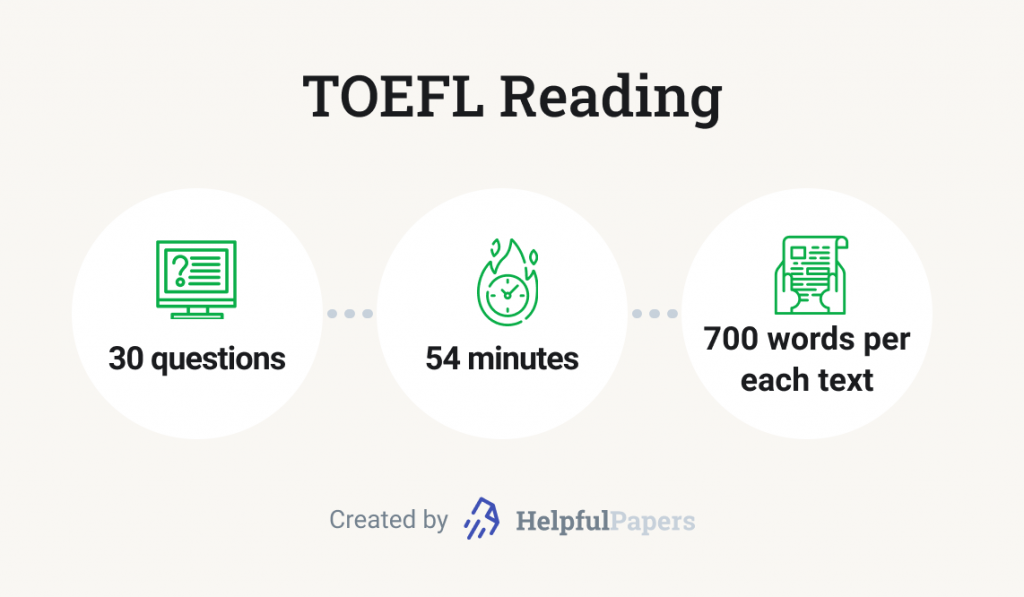 Texts in this section are lengthy and complicated enough. The topics range from science to art. You shouldn't worry about the topic complexity, though. Each passage has an explanatory intro, so the discipline itself doesn't play a significant role.
The section has the following question classification:
multiple-choice questions;
sentence insertion tasks;
reading-to-learn questions.
TOEFL Listening
Then goes the Listening section.
Here are its characteristics:
28 questions;
The overall timeline is 41 minutes;
2 conversations (2-2,5 minutes each) and 3 lectures (5-5,5 minutes each);
An extended version includes 1 additional conversation and 1 more lecture. This variant is 57 minutes long.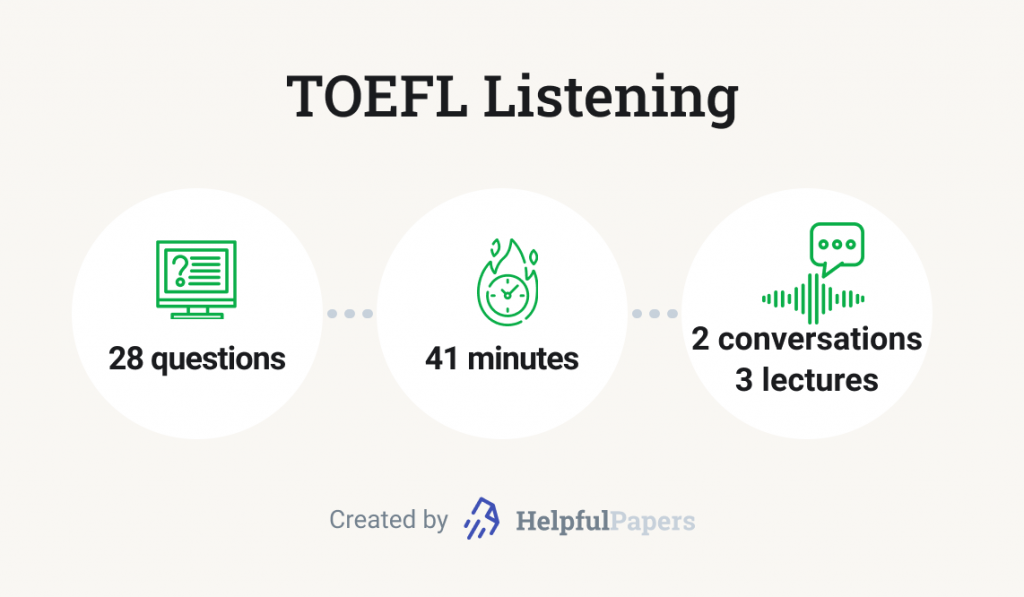 The TOEFL Listening section requires your additional attention in terms of timing. Bear in mind that there is 'clock time' and overall time. One more peculiarity is that you cannot pause or rewind the recording. You have only one chance to get the details while listening.
TOEFL Listening consists of two major question types:
multiple-choice questions with four answer options
categorization questions
The Best of the TOEFL Sections – Break
This time-out is an excellent opportunity to recover your breath and reload.
You should make the best of it.
Here's how to do that:
have a snack;
move your body, a bit of stretching will do you good;
take some notes;
shift your attention and release stress;
warm up before the speaking section.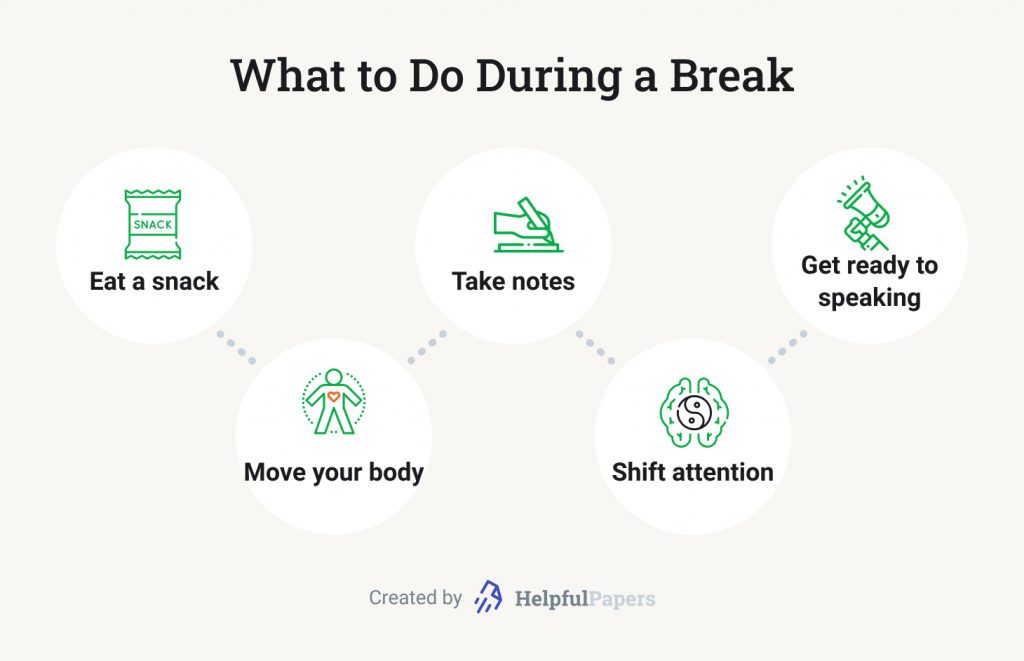 TOEFL Speaking
Speaking is aimed to check your ability to deliver a consistent speech in academic English.
TOEFL Speaking section specificities:
4 tasks;
17 minutes in sum;
Prep time before the answer is 15-30 seconds;
The response itself will take 45-60 seconds.
In the first task, you'll have to express your thoughts and positions. The other three represent a mix of language skills: speaking, listening, and reading.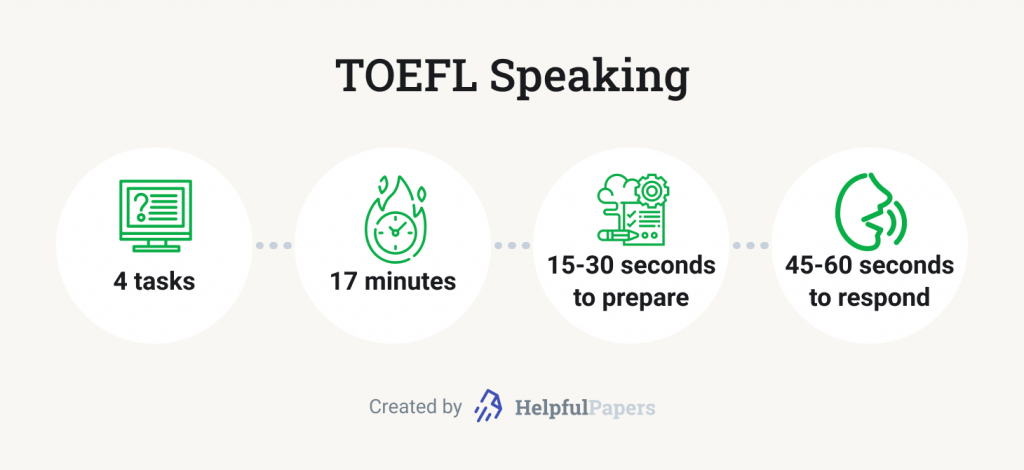 Let's have a closer look at the tasks:
Task 1 (Independent): your thoughts on a particular social issue
Task 2 (Integrated, Reading & Listening): elaborate on student life-related topics.
Task 3 (Integrated, Reading & Listening): present information revealing an academic topic.
Task 4 (Integrated): summarize central ideas heard in a lecture.
TOEFL Writing
TOEFL Writing estimates your ability to write your ideas in a clear-cut academic way.
50 minutes for 2 tasks;
Task 1 (Integrated): listen to a lecture (2 minutes), read a text (250-300 words, 3 minutes), write a response (150-225 words, 20 minutes)
Task 2 (Independent): 30 minutes to write a 300-word essay that reflects your personal experience or opinion on a given issue.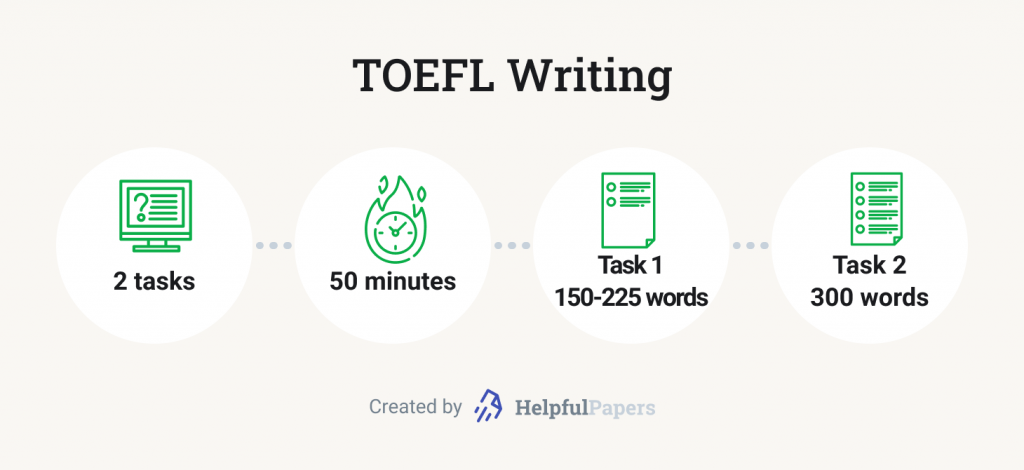 💯 TOEFL Scores
Our Experts can deliver
a custom essay
for a mere 13.00 11.05/page
Learn more
To succeed in the exam, you should know the assessment process and scores distribution among tasks. A certain number of points reflects a particular language level.
Let's say you get 120 scores in general – it would mean you are advanced in English.
How does the scoring work in TOEFL? Find out below!
The ABC's of TOEFL Scores
The TOEFL scoring system has its peculiarities. To understand them, you'll need a bit of focus and involvement.
And we are here to help 👉
No 'pass' or 'fail' results. The lowest passing score is set by each institution requiring a TOEFL certificate. So, the threshold varies.
Thirty scores for each section. The TOEFL assessment system allows you to get 30 scaled scores for every part of the exam.
Raw and Scaled scores. A raw score stands for the total sum of questions you answered correctly. Then, these scores convert into scaled ones. The process isn't exposed; the equation of raw and scaled points stays unresolved.
You get only scaled scores. You won't know your raw scores. All the points which you can eventually see in your scorecard are scaled.
Scaling depends on the task difficulty. Say, some tasks are slightly more complicated than others. The system will give you a more considerable number of scaled scores for a more difficult task to even up the odds.
TOEFL Scoring for Reading Section
Reading scaled scores:
Advanced: 24–30
High-Intermediate: 18–23
Low-Intermediate: 4–17
Below Low-Intermediate: 0–3
Let's dive into figures for a while:
For each of the TOEFL reading questions, you'll get from 1 to 3 raw points.
Mainly, there are multiple-choice questions and only one out of four options to be correct. You get 1 raw point for each right answer.
"Reading to Learn" questions allow you to obtain 2-3 points for each response.
All in all, you can get from 0 to 45 raw scores for TOEFL Reading.
Here is the official regulation of TOEFL reading scaling.
TOEFL Scoring for Listening Section
Listening scaled scores:
Advanced: 22–30
High-Intermediate: 17–21
Low-Intermediate: 9–16
Below Low-Intermediate: 0–8
More important details:
The same situation with Listening – most of the questions are multiple-choice with one correct answer.
There are questions with two correct responses and those where you have to structure the information.
For each of the responses, you'll get 1 point, for this is the value of TOEFL Listening tasks.
The overall raw scores amount ranges from 0 to 34 points.
Follow the link to search for some details concerning Listening scoring.
TOEFL Scoring for Speaking Section
Speaking scaled scores:
Advanced: 25–30
High-Intermediate: 20–24
Low-Intermediate: 16–19
Basic: 10–15
Below Basic: 0–9
A closer look at the scores:
Mind that this section is pretty hard to measure!
Each of the Speaking tasks is worth 0-4 raw whole scores.
The value of scaled points for every Speaking task is 7.5.
You can receive from 0 to 24 points in TOEFL Speaking.
To get the complete picture of how scoring for Speaking works, check out this
TOEFL Scoring for Writing Section
Writing scaled scores:
Advanced: 24–30
High-Intermediate: 17–23
Low-Intermediate: 13–16
Basic: 7–12
Below Basic: 0–6
A more detailed picture now:
For each of two TOEFL Writing tasks, you can get 0-5 raw points.
The points scores are presented in whole numbers, not decimal.
The total amount of raw scores you can receive for this section is between 0 and 10.
Check out information concerning the scoring process
📖 TOEFL Reading: Preparation Strategies & Tips
On-Time Delivery!

Receive your plagiarism-free paper done
in only 3 hours
Learn more
Now we have come up to the most exciting part of the article – preparation tips and tricks!
We'll be considering every exam section separately for a more consistent approach.
TOEFL Reading assesses how well you can percept the information by reading. You'll work with 3 or 4 academic texts.
The texts can be about anything.
Literally anything.
TOEFL Reading #Strategies
First, we want to give you guidelines on working with academic texts independently of the TOEFL format.
Look for the central idea in the very first or the last paragraphs of the text. Usually, the body of a passage contains details. The core information is hidden in the intro and the conclusion.
Get distractions out of your way. It also happens that the introduction and final part don't give you what you need. In that case, you should get rid of those elements which don't matter.
Mark the sentences according to their importance. In other words, make a gradation. Spot the less critical sentences. Then look for those which seem to be more informative.
Develop your perceptual skill. Try to improve your ability to read fast and get the key points once you look at the text.
Don't be scared of unfamiliar words. You can always rely on the context to get the clues of the main idea of the sentence.
TOEFL Reading #Tips
Here are the ways to crack the TOEFL Reading section itself.
For a multiple-choice task, read all the answers thoroughly. Make sure that the choice you've made is the fittest for the question. How to do that? Find supporting details in the text.
To accomplish the Inserting sentences task, read the whole passage properly with a new sentence in it. Does the text make sense now?
Reading-to-learn checks your ability to get the essentials from the text. Don't let minor details distract you. While arranging facts into summary, focus on what really matters.
Don't get stuck with one particular task. Do your job thoroughly, but spending too much time on one task won't let you succeed in the rest.
Take practice tests of 2020 or earlier: getting acquainted with samples, you'll be able to crack actual TOEFL.
Keep track of your pace and speed up if necessary. The timeline of 20 minutes for three long passages is not a lot. You should train your speed of reading and comprehension.
🔊 TOEFL Listening: Preparation Strategies & Tips
Listening is another tricky section of the TOEFL exam. It consists of two major parts: lectures and life-like conversations. You'll have to comprehend information and capture necessary facts out of the flow.
We suggest that you explore the methods and hacks of successful accomplishment of this task below!
TOEFL Listening #Strategies
Distinguish between sounds. The recordings in the listening section can have diverse accents. Be ready for the different pronunciations of familiar sounds.
Practice paraphrasing. The exam audios are tricky. It's likely to miss the essential information if you are not aware of different ways of expressing the same idea.
Inferring meaning from the data given to you is another helpful skill. You need to be able to define what means what and how to sum it up.
Listen better by taking good notes. It may sound complicated, but taking notes while listening gives you benefits. Swiftly put down the significant facts and then use them in your response.
Study phonetics. If you know English phonetical peculiarities, you'll understand recorded speech better and faster.
TOEFL Listening #Tips
Learn to spot the most crucial information. A speech flow is full of details. Not all of them are important for your task! That is why you need to read the questions thoroughly.
Taking notes is great, but make sure you don't go too far. If you try to write down everything from the record, there's a chance of missing out on a great deal of it.
Don't neglect the opportunity to hear the track again. There are so-called 'Replay Questions' where you can listen to the audio twice. Grab the chance!
Practice listening to natural English speech. Watch movies, TedTalk videos, or your favorite podcasts to get used to natural speech flow. The audio recordings in TOEFL Listening contain the same features as those mentioned above.
Stay alert and focused. It may sound easy, but in a stressful situation, we may lose the sharpness of our perception. Be all ears!
🗯️ TOEFL Speaking: Preparation Strategies & Tips
TOEFL Speaking is a fantastic combination of all language skills. There you'll find parts of Reading, Listening and of course a lot of Speaking itself.
Speaking tasks are pretty diverse: they contain a conversation covering student life topics, academic-related text, and a monologue on various social issues.
TOEFL Speaking #Strategies
Again, let's start with the main rules.
Improve your vocabulary regularly. With a lot of words and speech figures, you'll be able to express any idea instantly.
Stick to one point while you are speaking. Don't try to deliver all your thoughts at once. Always bear in mind the structure of what you're going to say.
Think in English. This habit can be beneficial before the exam. It will make your oral speech faster and smoother.
Record yourself. Revising your speech regularly gives you a picture of the flaws to fix. Record yourself and listen to it as frequently as you can.
Speak like a native! The easiest way to sound like a person who masters English is to use collocations and idiomatic expressions. Make a list of your favorite idioms for any case.
TOEFL Speaking #Tips
Independent tasks. These items imply your verbal message without additional prompts. Speak on a given topic from your experience.
Integrated tasks (with reading & listening). The best tool to help you connect the text and the recording is taking notes. Write out the necessary details while reading and listening. Then, use your notes when you are speaking out.
Integrated tasks (with listening). Put down major facts and ideas while the record is on. It doesn't matter that the task goes after listening. The crucial information is with you already.
The pace is essential. The amount of listening and prep time is limited. You need to get your brain working fast.
Elaborate on what you're speaking of. There's still time left? It's alright, don't panic! Give some details to the subject, enlarge the topic.
In Integrated tasks, spot the differences between data in the text and the audio. These are the keys to your response.
✏️ TOEFL Writing: Preparation Strategies & Tips
We have approached the final TOEFL exam section.
In an independent writing task, you write an opinion essay on a particular social issue. For the integrated one (listening + reading), you'll have to write a summary of the text and an academic lecture together.
TOEFL Writing #Strategies
Wonder how to cope with it? Study the section below then!
Quality over quantity. Try to embrace all the necessary topics without writing too much.
Always take an opinion. Nobody will check whether you really agree with it! While a vague, undistinguished stream of consciousness is taboo.
Brainstorming will make it easier to choose between points of view. This strategy allows you to get a broader picture of the subject.
A strong thesis statement matters in any essay. Train yourself to formulate a thesis accurately.
Stick to the topic. It's so tempting to go deep into explanations and details while writing. Make sure you answer the question in the task.
TOEFL Writing #Tips
Reformulate ideas and facts from the lecture and text. Your response has to be based on them, but don't copy.
In independent writing, make sure your point of view is strong and consistent.
Improve the smoothness of writing. Make a list of speech connectors, idioms, and grammatical patterns you'll be able to use at the exam.
Explore websites with sample tests. This is how you can be aware of the most usual prompts and task peculiarities.
Specify your answer. Don't cross the limit, but add argumentation to your piece of writing
Revise your written response thoroughly. Before sending the answer, look through what you've written and correct mistakes.
🚦 How to Prepare for TOEFL: Check-list
We hope that now you have the most straightforward idea of TOEFL iBT preparation by self-study.
Now,
Let's polish all the tips and strategies we've discussed before.
We have made this checklist of the essential aspects of how to prepare for TOEFL for you:
Enrich the active vocabulary: make word lists, memorize collocations, integrate novelties into your speech.
Take sample tests regularly.
Prepare a list of connectors, speech and grammatical patterns.
Set time limits and try to work within these, just like at the actual exam.
Study each peculiarity of all the TOEFL sections & scoring.
Explore Reddit, Instagram, or any other sources for a natural speech and shared opinions.
Increase the typing speed: online format demands your typing really fast.
Practice mindfulness to stay calm and concentrated during the exam.
Explore the TOEFL scores system thoroughly.
Train to stay focused and engaged for 3-4 hours.
Create space and opportunities for speaking practice.
Listen to native speakers' speech a lot.
Outline your preparation course.
Use Quora to learn of other examinees' experiences.
These were mainly some general advice on how to prepare for TOEFL iBT & pass it successfully.
Besides learning these techniques and tips, there's no way to sneak without fundamental theory: grammar, punctuation, spelling, etc.
So, we recommend making your preparation for the exam complex and all-inclusive.
That's it for today.
Feel free to rock the TOEFL exam!
Good luck🍀